Reflections on Shakti
Part of Samarpan Mahotsav, A Festival of Indian Classical Dance, presented by Jaivant Patel Dance and Arena Theatre
Friday 14 June
Arena Theatre, Wolverhampton
It is increasingly argued that the English word 'dance' is an incomplete and somewhat misleading descriptor for the Indian performing arts traditions that are bracketed under this label, to the extent that actor, dancer and choreographer Shane Shambhu feels that it is high time this label is dropped in favour of the less prescriptive 'performing arts' (interview, 2019). The term's inadequacy, and the uneasy positioning of these performing arts traditions within the (predominantly Western contemporary dance led) independent dance sector in the UK was brought home to me with renewed force by Shakti, a showcase of four female performers presented by Jaivant Patel.
As I revelled in the abstract movements riffing on the spoken rhythms; in the percussive footwork that added a live dimension to the recorded music; in the highly stylised form of mono-acting through which each single performer summoned a whole range of characters on to the stage, I was struck by how far the conventional understanding of 'dance' in this country is circumscribed – and by how this understanding can, in turn, serve to circumscribe our imaginations and our performances. It is a circumscription that too rarely gives 'classical Indian dance forms' the license to simply be themselves. How refreshing to see these forms performed without any regard to the need to 'innovate' or 'question' or somehow make themselves more accessible to an audience presumed to be in need of such assistance.
The evening started with a varnam, Nathanai Azhaitodiva, choreographed and performed by Anusha Subramanyam. A varnam is a singularly satisfying piece to watch, and Subramanyam's light and playful jathis, beautifully weaving in the iconography of Lord Muruga, provided the perfect counterpoint to the emotional depth of her sancaris, where, true to the challenge of a varnam, she took us through the different colours of emotion, showing both the playful excitement and the heartrending emptiness of being in love.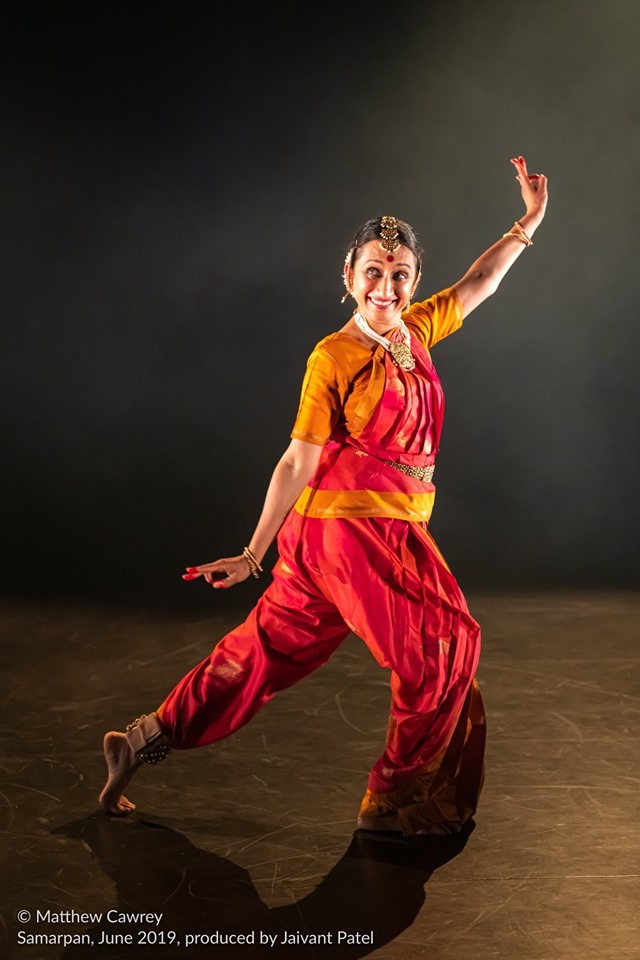 Ashwini Kalsekar was next, commanding both stage and audience with a compelling kathak tribute to Lord Krishna, Krishna Madhuri (part self- choreographed, part choreographed by Guru Radha Nadgauda). Kalsekar juxtaposed a poised and reflective Vandana with a lively and fiery nrtta display that for me was a prayer in itself. Her powerful, percussive ladi was performed with a panache that elicited spontaneous audience applause.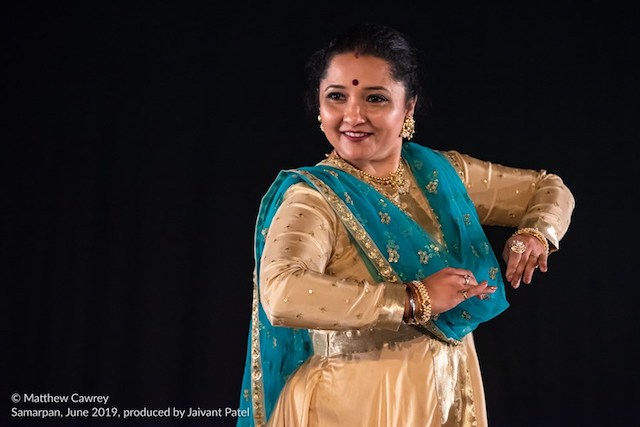 Parvati Rajamani opened the second half of the evening with a deliciously sinuous self-choreographed odissi invocation to Lord Ganesa, leading into a danced meditation on water in Bihag Pallavi (choreographed by Guru Kelucharan Mohapatra). Rajamani performed her light yet grounded movements with an enviable effortlessness. The smooth circularity punctuated and underlined by a leap, or a swift weight change in the hips, left me luxuriating in the movement as much as it seemed Rajamani did herself.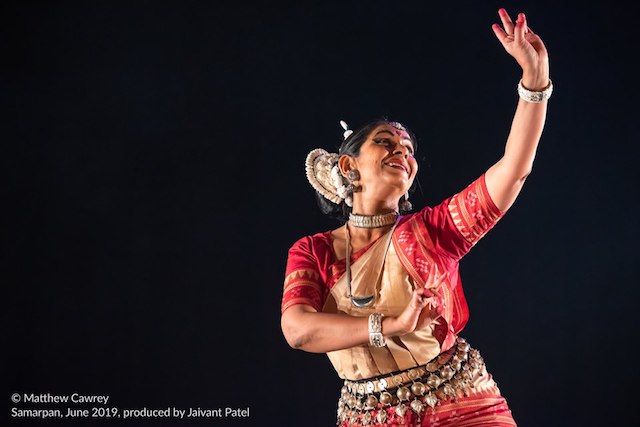 Urja Desai Thakore concluded the evening with an intelligent self-choreographed piece, Rangmala. The heroines of the Mughal miniature paintings breathed as Thakore conjured them into being – variously, light hearted, tentative, sensual, subdued.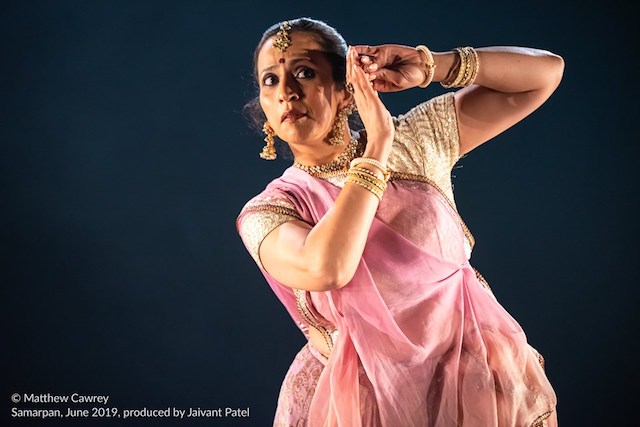 A point worth noting is that the Shakti on display here was that of slightly older women, embodying their forms with the assurance and ease of an established friendship, not the passionate brittleness of new love. At an age where many ballet and contemporary dancers would be thinking of leaving performance behind, these dancers took the stage with a command that left you feeling they were just getting into their stride. Returning to the earlier point about circumscribed perceptions of dance, I could not help thinking about the talent that inevitably seeps out of the contemporary dance world in this way – and whether there is a lesson to be learnt here from Indian 'dance'. 
Part of the power of the evening's performance came from its being comprised of four solos, solos allowing the performers to interact with their art form and the audience in a very different way to ensemble work. In showcasing four different artists, each given a decent chunk of time in which to develop their material, Patel is continuing the exploration of different ways to curate Indian classical dance forms in a way that remains true to the character of the art forms and yet allows for a range of performers.
In this light, something it would be interesting to develop further might be brief moments of possible interaction or exchange between the solo performers in the manner pioneered recently by the Rerooted Collective – allowing for a greater overall coherence to the evening – though of course this would occur the additional expense of funded rehearsals. One gripe – where live music is not affordable (and obviously having live music for the performers is the dream!), there were moments where greater attention could have been paid to editing the music – especially where several tracks were used. This is a detail however, and did very little to detract from the audience's enjoyment of the evening, which, judging from the applause, and from comments I overheard, was as rich and fulsome as the performances themselves. 
Photo credits: Matthew Cawrey