Queen of Hearts
Queen of Hearts
Midlands Arts Centre, Birmingham
Saturday 26th March 2022
Photos: Sampad
Queen of Hearts is a fifty-minute duologue between a 'fading Bollywood star' and her younger self; a theme which enticed a healthy audience to the MAC's Hexagon auditorium as it premiered as part of the venue's Celebrating Age season.
Dancer Aruna Kailey opens the performance in a rendition of 'Madhuban Mein Radhika Nache Re' imbued with charm, elegance of line and a sense of fun. Kailey's presence punctuates the production to the soundtrack of classic Bollywood hits, bringing an element of glamour that was lapped up by the audience. 
In the first scene Kailey is joined by the two actresses, who, after echoing her movements, exchange a moment of recognition as Lalita Devi (Alex Kapila) admires the youthful face and luxurious braid of her younger self, Laali (Ravneet Sehra). Dialogue between these two within Bela Gardner's simple set depicting a sitting room in the West Midlands forms the spine of the play. Kapila brings emotional intelligence to her portrayal of an actress whose self esteem has been rocked by ageing-out of an industry in which former co-stars continue to play the heroes whilst she is demoted to the role of mother, aunt or grandma. As self-deprecating as she is self pitying, we warm to Lalita who is insightful despite her whingeing.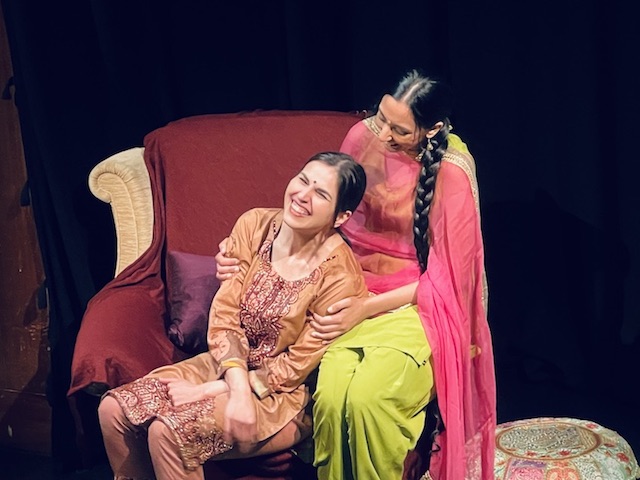 Laali provides a sympathetic foil to the leading lady, reminiscing with her over the adulation of crowds at movie premieres and her fond memories of her father. The dialogue explores troubled relationships, financial exploitation, and feelings of loss, isolation and dislocation as divorce and emigration pluck her from the elite social circles of Mumbai to the Indian diaspora in the West Midlands. Laali sees the silver lining: the potential for independence and creative freedom. There is a charming synergy between the characters, although Laali has a 21st century feel (checking schedules on a tablet and discussing social media following) more suggestive of Personal Assistant or helpful niece than Lalita's 'younger self'. 
As the play unfolds, Lalita's humiliation is comically illustrated as she is cast in a health promotion video, directed by Sehra as Pragna – a cloyingly sycophantic yet patronising British Asian director. Sehra further demonstrates her comic ability and versatility in the role of British Asian TV chat show host Timmy. In Rukshana Ahmad's cleverly scripted exchange, the two 'old friends' spar from behind false smiles as Lalita fights to preserve her privacy and dignity against Timmy's invasive questioning. Sehra draws the viewers into their role as the chat show audience who clap and respond when prompted and even join in with a sing-along to 'Those Were the Days'.
Director Hamage Singh Kalrai clearly understands his audience and cleverly builds a warm rapport between them and the cast which is built upon the strong synergy between the two actresses. The use of danced interludes and choreographed set changes which blurred the lines between stage hand and performer add further colour and dynamism to the production, helping to frame the scenes. Further refinement of the integration of these elements could perhaps heighten the energy on stage.
As a non-Hindi speaker with experience within classical Indian dance, but limited knowledge of the Bollywood pantheon, many of the references and lyrics Ahmad has woven through the script went over my head. Not so for many in the audience, who sang along and finished the actresses' quotes throughout. A motif throughout the play is the song 'Abhi To Main Jawan Hoon' (I am still young). Lalita recalls her father's rendition of this ghazal popularised by Malika Pukhraj and repeats the line imbued with her own sentiment. Ahmad sets a bittersweet tone in this comic play which Kapila conveys with authenticity. Lalita's reflection on the past brings both regret and gratitude. Recalling the ghazal's lyrics 'I resolve to forget what is lost and bring the heart to a point where there is no difference between sadness and happiness', Lalita sets a hopeful tone of acceptance and ownership of her past, present and future. 
Writer: Rukshana Ahmad
Director: Harmage Singh Kalrai
Concept: Piali Ray
Actors: Alex Kapila, Ravneet Sehra
Dance / choreography: Aruna Kailey
Sound: Olli Smith
Assistant Director: Ajay Dattani
Set and costume: Bela Gardner
 
Madhuban Mein Radhika Nache Re - Kohinoor (1960)