Kathak Monologues
Kathak Monologues
Amina Khayyam Dance Company
The Rich Mix, London
Saturday 19 March 2022
Performance photos: Simon Richardson
An evening of four dance pieces written and choreographed by kathak artist Amina Khayyam at the lively East London venue Rich Mix drew a capacity crowd of mainly young, female and South Asian heritage audience. 
On offer were four sketches of contemporary life: falling in and out of love; the conflict between abstinence and free expression for a same sex couple; the healing power of sisterhood; and, for one night only, 'Bombay Bitch', depicting the abuse of women in the film industry (think Weinstein). 'Bombay Bitch' was presented in partnership with Insaan Culture Club and followed by a cabaret night.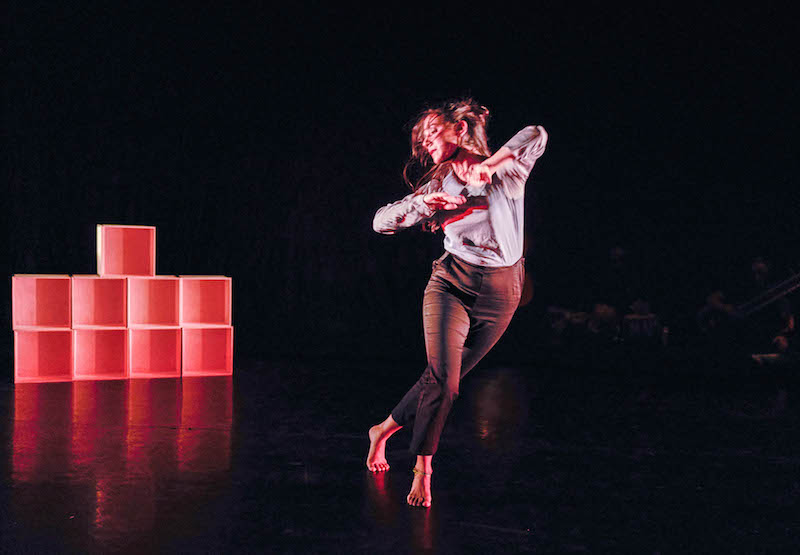 Meera Patel's opener 'Manchild', with singer-songwriter Namrita Kaur Rasiya, was convincing in the simplicity of the telling. Patel moves with ease into the different emotional states, with Rasiya's bluesy lyrics setting the scene. She surprises, drawing humour from the slicking of hair and glances of self-admiration, assuming the male role momentarily (hence 'Manchild'?). Patel's kathak-derived movements – patterning of arms, head and wrists to rhythmic foot work – are used in conjunction with a wide coverage of space giving energy and urgency to the performance. Most remarkable of all is that we can recognise and identify with this character – a far cry from the traditional picture of a lovelorn heroine of a bygone era. This is a modern woman feeling disappointment and heartbreak no less keenly, but somehow she looks and feels like us.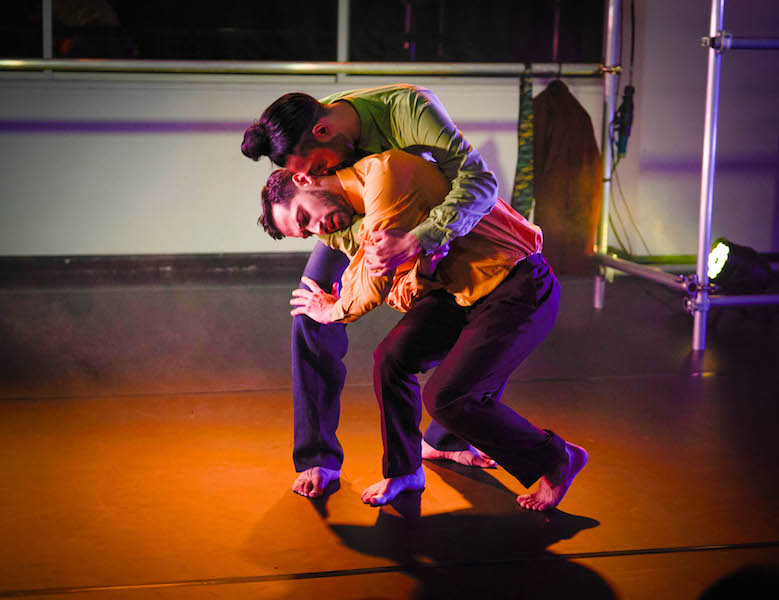 The next dance piece, 'You and Me', moves the audience into an adjoining space for Raheem Mir and Vlad Troncea's duet of a same sex couple in the grip of attraction and smouldering passion, fearful of giving expression to their innermost desire. They circle each other, reaching out to touch, and hastily draw back. Mir is a seasoned kathak artist, his upright stance and elegant movements contrasting with Troncea's loose and fluid drops and floor spins. The choreographer successfully deploys humour in one memorable section at the bus stop: on best behaviour with one leg crossed over the knee in a bent stance, each takes turns to ogle at the other behind their back. The duet is not hindered by restrictions on contact and some of the most powerful sections are the variety of holds and interlacing of bodies with a final fade-out on a kiss, that drew an expiration from a same sex couple in the audience. Funny, cheeky and sexy, beautifully performed, it was thoroughly enjoyable.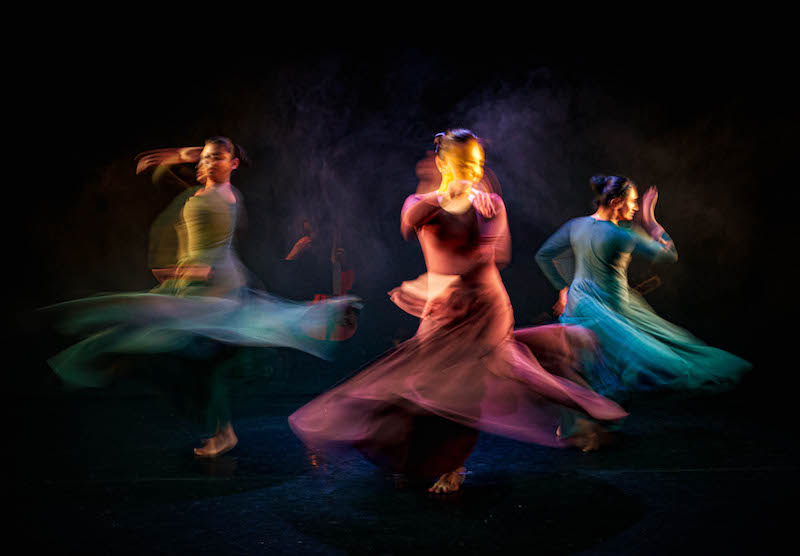 The last piece of the evening on stage, 'Bird', is a sequel to a dance film produced by AKDC over Covid. The film's theme was domestic violence, which assumed a frighteningly high proportion over lockdown. In the film, birds symbolised the spirit of the women and this motif is built upon. A trio of dancers – Jane Chan, Jalpa Vala and Sushma Vala – sweep through the stage, their full length dresses swishing and flaring, the strength of their bodies and minds refusing to submit despite the blows and humiliations dealt on them. The momentum and the fluidity weave loops and circles in the air. The three women gather then in a tight knot with hands reaching and touching; then one leans forward to release her spirit as a sister anchors her other arm in a touching tableau. Khayyam has succeeded in conveying the story purely through movement.
The live accompaniment by long-term collaborators Debasish Mukherjee on tabla, Jonathan Mayer on sitar (doubling up as composer) and Iain McHugh on cello is sensitive and supportive. It does not lead or dominate, but rather is minimalist and appropriate.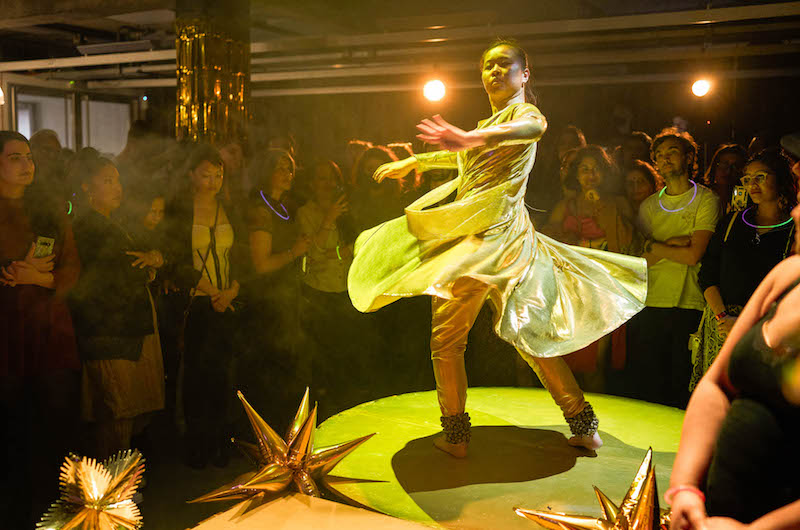 The last act was presented in the larger club space of Rich Mix with a Bollywood set suitably garish and tinselly with a projecting cat walk and a platform for musicians on either side. The dancers in their gold dresses dance down the aisle, uncompromising kathak repertoire with blank expressions not playing to the crowds. Two creepy men follow the dancers as they retreat into their rooms. Members of the  audience gasp in horror as one touches his crotch. Nothing more – the point has been made.
Kathak Monologues is a daring show which showcases the choreographer's commitment to conveying the stories of women, particularly those from marginalised communities, using the kathak form, though she deploys  a wider range of movement as suits the theme. This is a dance maker who has found her voice – her kathak-derived work is fit for the twenty-first century. 
For this reviewer, Kathak Monologues is a 'must watch' show.