Lockdown Life / Captive Artist
Two contrasting views on the lockdown experience: life behind bars, or the retreat into the mind and the imagination? Cartoon_natyam Veena Basavarajaiah illustrates one angle while Nainika Mukherjee from Delhi writes of positive outcomes.
MY JOURNEY IN THIS LOCKDOWN has been nothing short of a roller-coaster ride. In school, I remember how teachers used to tell us that 'we still have so much to learn because we haven't faced the real world'. Four-and-a-half years later, I can say that I have learnt more lessons about life, as well as understood myself better by being home-bound than I could by facing the world outside.
During the initial weeks of lockdown, I was anything but positive. I didn't like staying at home since it was synonymous with giving up on 'freedom'. I was so accustomed to doing things my way that I'd forgotten what it was to cooperate. 
My selfish tendencies phased out over time, and by the third month of this lockdown, I started listening. I would put my studies or practice aside to give the five minutes needed to explain a feature to my mother or to fix the technical glitch on my father's computer. I started being more receptive to the environment around me, which in turn instilled virtues that seemed almost impossible for me to attain at any other juncture of life. All of a sudden, being at home never felt better!
Like most people, I finally had time to practice some hobbies - be it cooking, drawing, or reading. 'Riyaaz' has a new meaning for me altogether. Every time I do my kathak riyaaz, I feel more connected with myself. I understand my mind and body better. Since I have more time in my hands, I increase the duration and try to incorporate my thoughts a lot more than just perfecting my footwork and hand movements.
I'm in a better state of mind, mentally and emotionally, which has boosted my levels of creativity. Of course, there are days when I'm lost and confused, but I don't fight against it. Instead, I try my best to accept my feelings. Trusting the process, while working towards your goal, is not as easy as it sounds – especially during a time where free digital concerts and performances are making their way.
Do I miss waking up and rushing to take the metro from Gurugram to Delhi every single morning? Yes.
Do I miss travelling across town without any fear and inhibition? Yes.
However, once things come under control, I know I'll miss this lockdown. I'll miss the time I have, right now. I'll miss doing things at my own pace.
I might as well make the most of what I have, for as long as it lasts!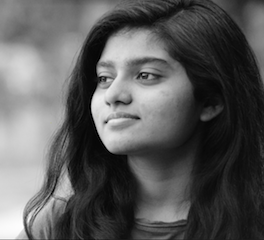 Nainika Mukherjee is 22 and one of those who responded to our call-out for writers. 
Nainika started her training in kathak under Swati Sinha in 2005, and is currently pursuing her Post Diploma under the guidance of Rajendra Gangani, from Kathak Kendra, a constituent unit of Sangeet Natak Akademi.
Veena Basavarajaiah is a movement artist from Bangalore. She uses her illustrations to address issues of the art world through her insta profile cartoon_natyam