Towards a New Youth Movement
In August 2018 I was thrilled to have been offered the role of Artistic Associate of  Yuva Gati, the South-Asian Dance strand of the Centre for Advanced Training (CAT). CAT is a unique national training and development programme for 11-18 year olds funded by the Department of Education Music and Dance Scheme. The Yuva Gati programme is led by Birmingham-based dance agency DanceXchange in partnership with Sampad South Asian Arts and Heritage. On discovering that Yuva Gati translates as 'Youth Movement', I began to wonder... What purpose could a 'Youth Movement' serve and how could I as Artistic Associate reposition Yuva Gati within the arts ecology? Of course, I recognise that increased representation and more visibility for South-Asian Dance are desired outcomes but was there something further that a 'Youth Movement' could achieve?

Before I continue it is important for me to share why I felt it was necessary to take on this role as an artist with a fairly busy schedule between leading Altered Skin, a successful theatre company, an Associate Lectureship at East 15 Acting School and a myriad of other exciting projects as Artist-In-Residence at DanceXchange. Having started my creative journey as a bharatanatyam dancer, my artistic career has seen me gradually widen and diversify my skills set working as dancer, actor, choreographer, director and writer/playwright over the past 20 years.
...all classical Indian dance forms... contain and move between different performance genres.
My artistic career as performer and creator with established choreographers, theatre-directors, visual artists, musicians, composers and writers alongside my continuous experimentations of bharatanatyam has helped me realise that all classical Indian dance forms, in fact all Asiatic art forms, contain and move between different performance genres. However, working within the Eurocentric machinery has been an arduous journey for me, constantly having to try and break down the cultural expectations and innumerable barriers that have been and continue to be imposed upon the classical Indian cance languages by those who see it as the 'other'.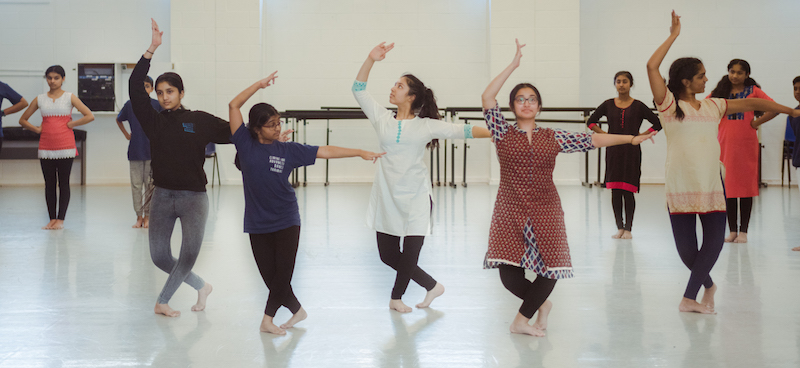 Having overcome some of these obstacles (and believe me, there are always more to keep you on your toes - pun intended) I felt that the Artistic Associate role at CAT Yuva Gati could be an opportunity for me to share and contribute my lived experience of navigating this machinery to try and instigate a much-needed change within dance and the wider arts ecology. As it stands, South Asian dance forms are understood and channelled through the very same systems and structures of contemporary dance. This can lead to the exclusion, reduction or mis-interpretation of particular aspects of South-Asian dance forms. Having experienced this, I strongly feel that an intervention within these structures could shift the current narrative and trajectory of South Asian dance. Taking CAT Yuva Gati, a nationally recognised training programme, as the point of intervention, I see an opportunity to implement systems, structures and approaches that could genuinely represent and bring forward the breadth and depths of South Asian dance forms and challenge and remould existing frameworks that restrict the organic growth of classical Indian dance forms in its diasporic landscape.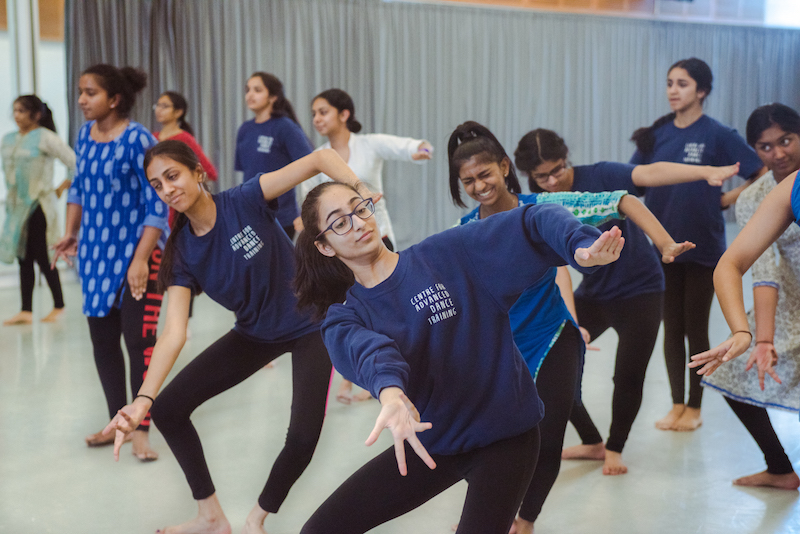 With this in mind, I have been working closely with the Yuva Gati team to gradually introduce a series of changes building on the current programme model. The CAT training programme continues raising awareness and knowledge of the body with physiologists to heighten students' strength and delivery of technique. In addition, students experience a variety of artistic disciplines, both within and outside of South Asian dance forms with world-class performers and tutors enhancing performance skills, simultaneously grasping the breadth and fluidity of classical Indian dance languages.
Students' creative curiosity is encouraged
Students' creative curiosity is encouraged through working with noted national and international guest choreographers, giving them a sense of professionalism, ownership and responsibility of their respective artistic discipline. We have introduced new steering panels comprising established South-Asian dance artists to bring their knowledge and expertise of the professional arts industry to help inform decisions on the development of the programme.  We are in the midst of opening the programme to all classical Indian dance forms and moving away from representing only kathak and bharatanatyam.
We have... altered the dynamics of the relationship with 'home tutors.
We have also altered the dynamics of the relationship with 'home tutors', a term used to refer to the primary teacher of a student of the programme. This relationship is becoming more balanced through transparent communication and collaborative joined-up thinking as they become the heart of the CAT Yuva Gati programme.  As this relationship strengthens CAT Yuva Gati is beginning to open up a much-needed space of discussion around current teaching approaches and methodologies, such as our recent sold-out online conference discussing complex issues facing South Asian dance tutors with guest facilitators, Durga Arya and Priyadarshini Govind; and for those students interested in a career in the arts post Yuva Gati we are currently paving potential progression routes bridging CAT Yuva Gati to a professional artistic career path.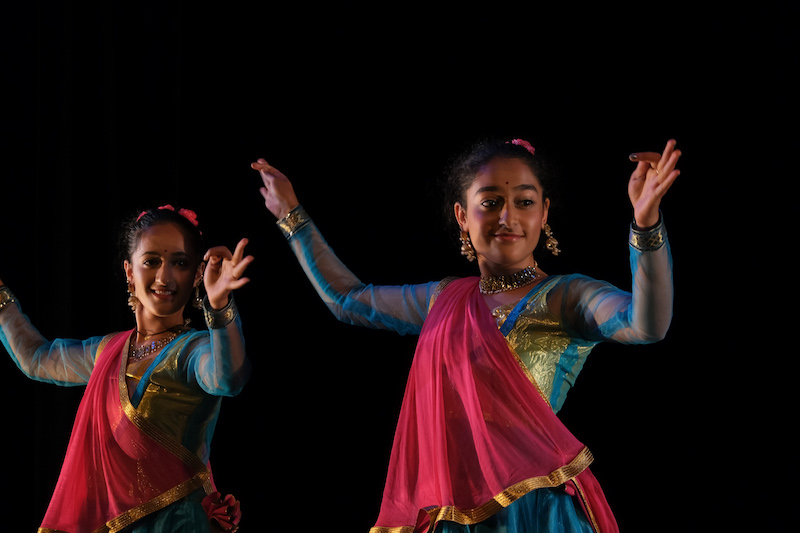 All of these changes actively seek to encourage the sharing of sector knowledge, collaborative thinking and alternative power structures. These changes will set the scene for major shifts to come amongst students, tutors, programmers and a whole host of cultural institutions in the thinking and understanding of classical Indian dance forms in Britain today.
.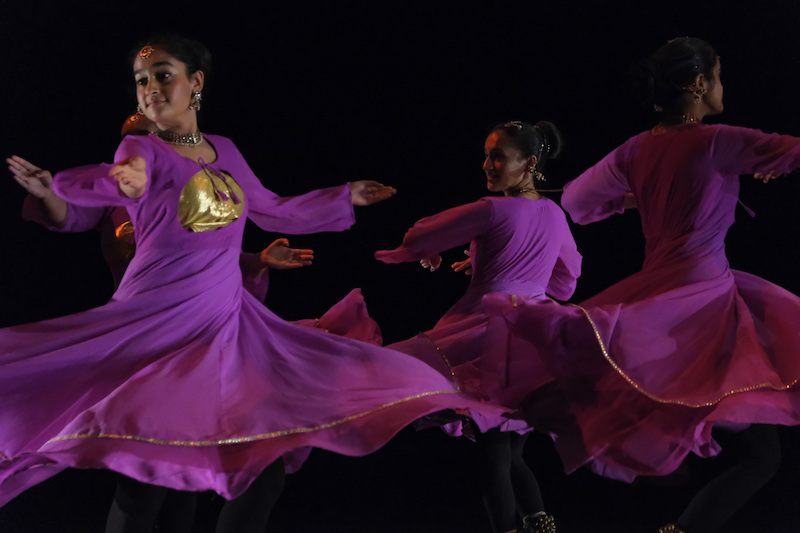 CAT Yuva Gati is helping to nurture confident, highly-skilled, creative and independent-thinking South Asian dance voices of the future. It is clear that not every student will decide on a career in the arts, but they will be equipped with transferable skills and a deep sense of who they are. Young people today are eager to learn, understand and connect with their history and heritage, yearning to see and hear their cultural stories through the arts and culture in Britain. If that is their desire, CAT Yuva Gati will become the first chapter of their career in the arts. 
Shane Shambhu
Writer, Director & Choreographer
Facebook: @shaneshambhuspeaks
Twitter: @shaneshambhu
Instagram: @shaneshambhu
https://www.dancexchange.org.uk/programmes/yuva-gati/