Sarathy Korwar Presents Upaj: Arun Ghosh Sextet + Soumik Datta
Sarathy Korwar Presents Upaj: Arun Ghosh Sextet + Soumik Datta, Jazz Cafe, London, Friday, 9th March 2018 – Reviewed by Anjali Khanna
     Friday evening at the Jazz Cafe, one of London's most popular venues, saw leading British Indian artists come together to perform a fusion of Indian classical and Jazz.  'Upaj' (improvise), curated by Sarathy Korwar, is a collective showcasing diverse South Asian talent. Raised in India and currently based in London, Korwar is known as an experimental and innovative composer, producer and percussionist.  His musical style combines traditional hypnotic devotional chants with jazz grooves and melodic improvisations.
The evening began with Soumik Datta on Sarod, accompanied by Cormac Byrne, with a brief appearance from Sarathy Korwar on percussion.  Soumik Datta, a virtuoso player of the sarod (a 19-stringed fretless instrument with a nomadic history spanning ancient Afghanistan and colonial India) is also an innovative composer.  He has been involved with a number of exciting collaborations across genres with artists such as Anoushka Shankar, Beyonce, Jay-Z, Akram Khan and Manu Delago. His fresh approach to both classical and fusion music has exposed the sarod to wider audiences around the globe.  Cormac Byrne, an Irish percussionist and Bodhran player, has received many awards including The John Wray Percussion Prize, The BBC Young Folk Award. His versatility as a percussionist has seen him work with a broad range of artists including the Backbeat Percussion Quartet and the Birmingham Symphony Orchestra.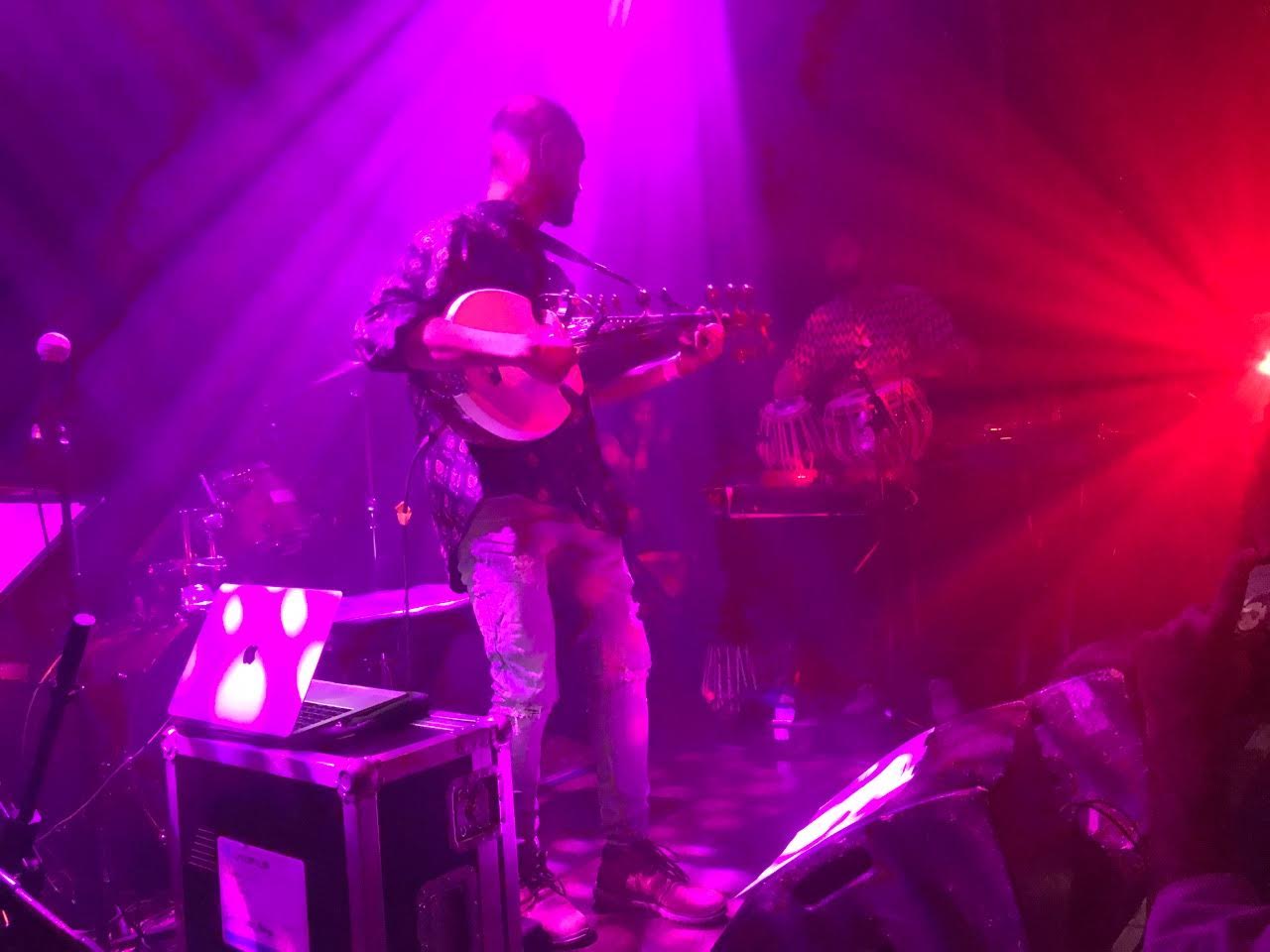 The audience were treated to an adapted version of 'King of Ghosts', Datta's re-scoring of Oscar award winning director Satyajit Ray's masterpiece Goopy Gayne Bagha Byne, which was screened recently by the BFI.  In tribute to the iconic Sridevi, they performed their version of the infamous Bollywood vintage track Hawa-Hawai, which included an incredible, playful 'spoon solo' by Byrne. Other stand out tracks included music from Soumik's Channel 4 documentary Tuning 2 You: Lost Musicians of India and a piece he learned from the Padma Shri classical vocalist Aruna Sairam.  The show ended too soon with his version of Murshid Khele Holi, a Qawwali piece aptly celebrating the coming of Spring.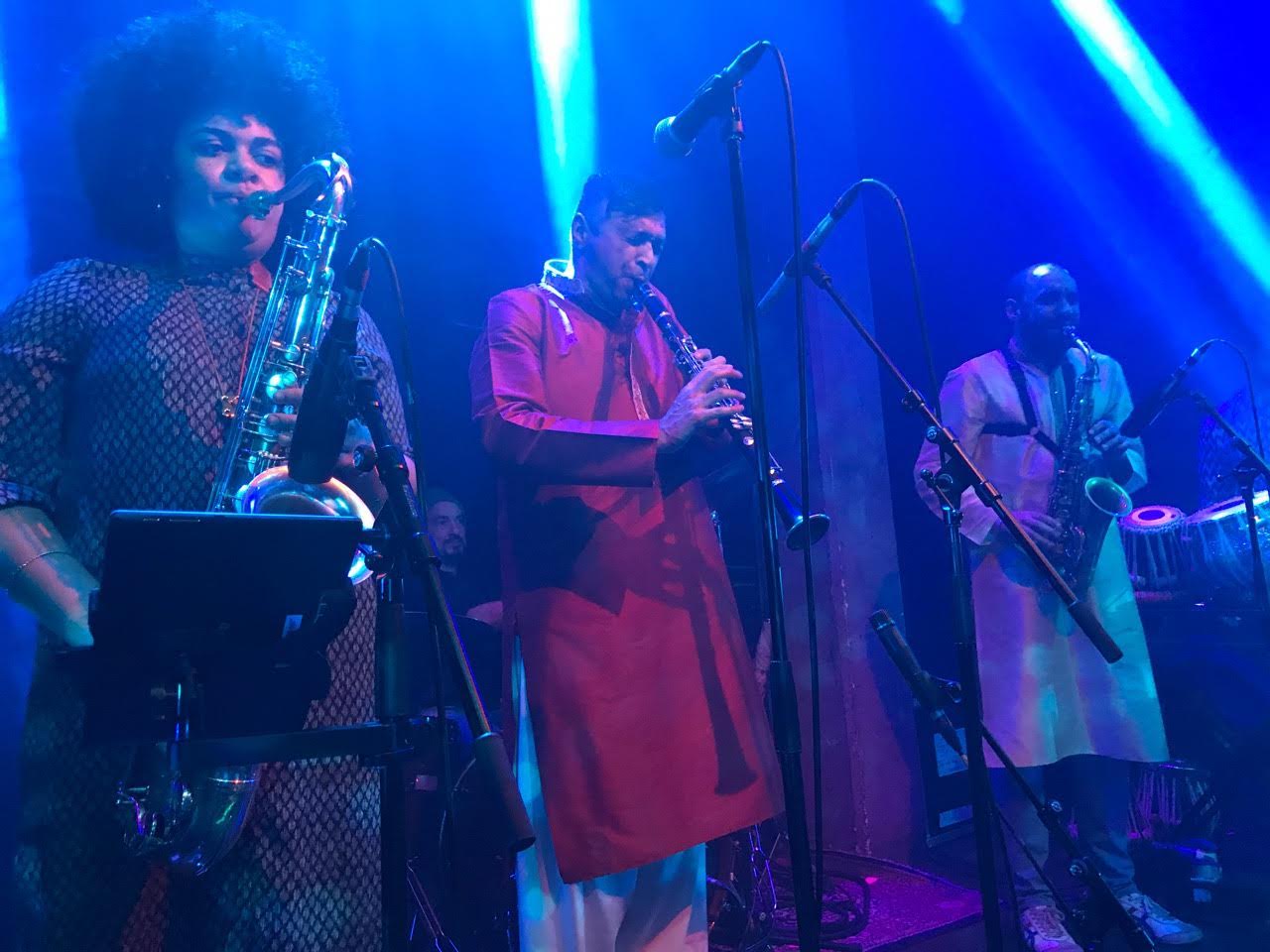 The lilting melodies of Soumik's Sarod was contrasted in the second part of the evening, when the Arun Ghosh Sextet (with Sarathy Korwar on Tabla) kicked off with the explosive 'Snakebite with Bacchus', an ode to street drinking.  Arun Ghosh, a leading figure in the international Indo-Jazz scene, was described by the late Pandit Ravi Shankar as a 'natural born improviser'. He was also named Jazz Instrumentalist of the Year 2014 in the Parliamentary Jazz UK Awards.  His Sextet invoke a Psychedelic/Rock Indo-Jazz sound, 'a sonic space where Alice Coltrane meets Spiritualized, ADF and The Velvet Underground.' Ghosh's soaring melodic improvisations on the clarinet combined with rapturous saxophone, keyboards and bass solos and underpinned by exhilarating drum beats made for a rhapsodic performance.  The set featured music from his new album But where are you really from? including the hypnotic Dagger Dance, Smash Through the Gates of Thought and Made in England (For Parv) alongside popular live favourites such as Aurora.

This is the best gig I've been to in a long while, and by a long shot: Exciting, experimental, original yet all the while soulful, significant and beautiful.  The combination of technical prowess and brilliant creativity of these young virtuosos pushed boundaries to create something really special. Ironically, this concert, with fusion at its finest, reminded me again of why I so love Indian classical music.
Artists:
Sarathy Korwar: Tabla
Soumik Datta: Sarod
Cormac Byrne: Percussion inc Bodhran, spoons, tambourine
Arun Ghosh: Clarinet
Chris Williams: Alto saxophone
Chelsea Carmichael: Tenor saxophone
Jessica Lauren: Keyboard
Marli Wren: Bass
Tansy Omar: Drum kit

Catch the next Upaj Collective on 13th July 2018