TRI EKA
TRI EKA
Saturday 7th July 2018
Peepul Centre, Leicester
Reviewed by Seetal Kaur
A solo dance performance is never really a solo dance performance. There is a whole production team involved. Music, lighting, costume and sound are all jigsaw pieces that make up the puzzle of a singular artist. But this evening was different: instead of focusing on herself, Anaya Bolar decided to focus on the art. TRI EKA is a bold and fearless statement by the next generation of British South Asian dancers that shows their exciting potential, ready to burst out of a 'brown' bubble and into the mainstream dance scene. 
Two golden lights filled the stage and shone towards the audience, revealing a mysterious figure taking measured steps towards us. Creating a magnetic presence, Anaya took evocative stances depicting the facets of goddess Parvati in 'Shri Rajarajeshwari Ashtakam'. The lengthy piece was confidently executed with nritta or pure dance technique woven with abhinaya or expressional verses. Anaya was adept at swiftly switching between characters or roles to depict a conversation taking place on stage.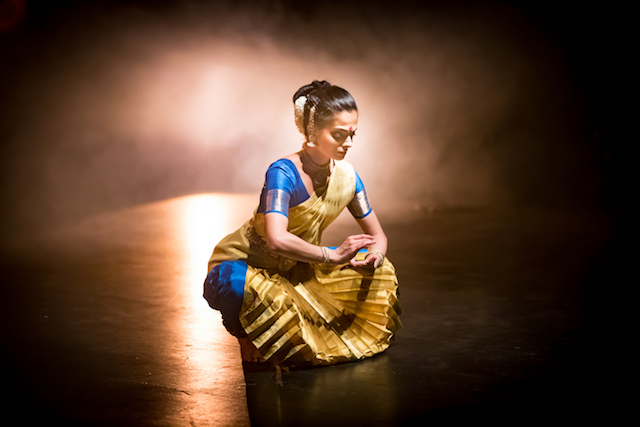 After a speedy costume change into a radiant blue silk ensemble, Anaya entered and seated herself next to a dim ray of light, highlighting one side of her face. In this 'Ashtapadi', Radha tells her friend or 'Sakhi' of her beloved Lord Krishna who fills her heart with longing. Although the initial lighting created some intimacy, it didn't enable us to see the full details in Anaya's facial expressions. Similarly, as she elaborated on the poetry, the stage was covered in a greyish, harsh light which felt cold and still left her face under-lit. Perhaps it was to show the emptiness that Radha felt without Krishna but a warmer environment evoking the riverbank and forest could have enhanced the story more.   
After two strong classical pieces to recorded music, we were filled with anticipation when three musicians entered the stage, taking their respective places in a triad formation highlighted by spotlights: Shyla Kumar on veena, back stage centre; Gurdain Singh Rayatt on tabla, downstage left; and Abhiram Sahathevan on mridangam, downstage right. After a short alaap and exciting percussive intro, kathak dancer Shyam Dattani spun onto the stage in a whirlwind of chakkars or turns. It was a dramatic duet with Anaya in bright red, with tones of the same colour worn by the other artists, which heightened the atmosphere. Choreographed on themselves, the two dancers played with rhythms, movements and postures while filling the stage with their jumps, spins and footwork. It was a clever and powerful piece that brought the two styles forward in equal measure and utilised the dancers' youthful exuberance, with charming moments of contact and interaction too.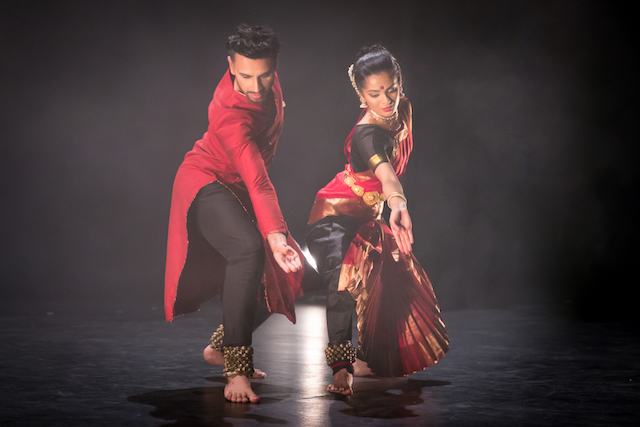 After the interval, the audience weren't quite sure what to expect. Choreographed and conceptualised by Subhash Viman Gorania, performed by Anaya, Emiko Jane Ishii & Kesha Raithatha, EKA drew upon themes of 'Tridevi', the three goddesses, Saraswati, Laxmi and Parvati and made an impact with feminine energy, ritual, struggle, power and grace. The opening conjured a barren graveyard of ritual and invocation, reminiscent of the Aghori, as Anaya floated in the middle of the stage and the other two dancers elaborated their solos in small pools of light against a backdrop of three, stark, white sheets of cloth. As their bodies churned and morphed with sharp, intense movements they gradually came together as the music changed pace and a trio of powerful choreographies hypnotised the audience. Soon the stage quietened and each dancer explored movements from their respective backgrounds, invoking the three goddesses in turn. Mesmerising artwork by Lorna Dunn and G Sian was projected onto the white sheets allowing a tangible reference to the familiar symbolism of each character. Next, the duet between Kesha and Emiko was fit for any contemporary dance stage with their greyish blue dresses highlighting turns, floor work, jumps, lifts and rolls with graceful strength. The piece closed with an intense, fast-paced sequence using three, heavy, black tables with silver detachable legs being swapped, flipped, slid and danced upon. The aggression and ferocity of the choreography perhaps signified society's oppression of feminine energy, containing or blocking it.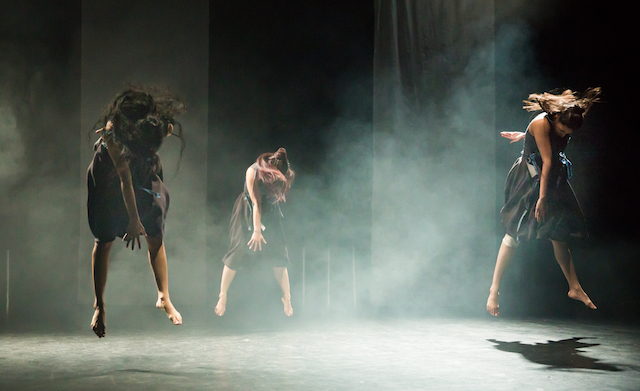 The evening closed with a feeling of being stunned yet satisfied. It tied a variety of strong performances together with Anaya's artistic journey. It was an exciting insight into what we can expect from a new generation and deserves to be shared with a wider audience. 
Photos: Vimel Budhdev