Supriya Nagarajan – singer, composer, synesthete.
New ideas and aesthetics inspire Supriya Nagarajan, classically-trained Carnatic vocalist, erstwhile bank manager, and founder of the Yorkshire-based arts organisation Mansamitra. Sanjeevini Dutta took the opportunity to find out more about her musical development and the career changes that have led to the release of Dusk Notes, the debut album she has created with Duncan Chapman.
'My life is here, I want to reach audiences here', Supriya Nagaranjan, Carnatic vocalist based in Leeds tells me in our Zoom conversation ahead of the launch of her debut album Dusk Notes. Looking back at her journey as a musician and composer it is clear that the singer's fervent wish to carve a space for herself in the UK's music scene has propelled her in fifteen years to a place where she is currently involved in at least eight performance projects. On Divali night, Supriya sang and narrated scenes from the Ramayana for the Northern Digital Divali; this week she is presented by SAA-uk in their Sacred Music series; and on Friday 20 November, she launches her album – and also a scheme funded by PRS (Performing Rights Society) to mentor six contemporary female composers. It is a breathless list of achievements. 
...Bjork... Sri Sriram... an investigative approach to music making.
'I am a very curious person', Supriya asserts, 'which has led me to an investigative approach to music making'. She lists Bjork and bassist Sri Sriram as artists whose concept-based musical composition fired her own imagination. She defines herself as a synesthete – someone who responds to multiple stimulation of sight, sound and smell to create, and in turn wants her music to unleash the combined power of the senses in the listener, to give joy and satisfaction. Supriya's first full length creation Lullaby (2015-2019) gave her the opportunity to place her craft within a universal context. What could be more fundamental to the human experience than a mother singing and rocking her baby to sleep? Hence the theme of the lullaby became the singer's tool of investigation. Gathering lullabies from different cultures and in various languages she found a collaborator in Duncan Chapman, whose recordings of a rhubarb plant growing with tiny explosions of sounds, fascinated the singer.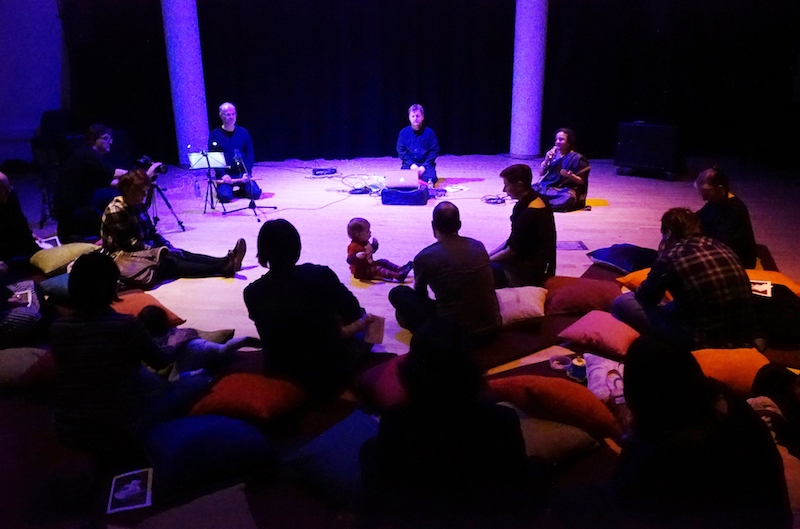 [would the sounds of] ragas]... mixed with more familiar sounds such as trams, or footsteps in the snow...free the mind?
At the heart of the programme was Supriya's own experiences of listening to the evening rituals, Shayanam, where the gods are 'put to bed' by lullabies, in the family's temple in rural South India. The composer had a sense that the scales or ragas used were particularly soporific, and she wondered if these, when mixed with more familiar sounds (such as the trams, or footsteps in the snow in Oslo), would reach audiences unfamiliar with classical Indian music.  Would the 'unconscious familiarity' free the mind to and allow it to receive a series of notes presented at a moment in time, coming with no baggage of tradition? Judging from the international tours of 2015 and then 2018/19 as Lullaby moved and morphed with locations as diverse as Iceland, Australia and Portugal, the artist's vision had been realised.
An immersive experience was created with mothers and toddlers invited to sit or lie on cushions listening to the music, free to move around and to touch the singing bowl or the sonic cradle, with light emissions timing with the pulse of the music – a fully synesthetic experience.
Where did this journey begin?
Looking back at the artist's life, it divides neatly into three sections: the learning and apprenticeship; marriage, family and first profession; coming to the UK and the decision to pursue music full time.
...a diligent [singing] student... the only activity for which I would prepare well ahead...
Supriya was born and raised in the bustling metropolis of Bombay. She recalls her mother singing slokas as she cooked, so her earliest memories are embedded with music. A music teacher lived next door and Supriya from the age of five took singing lessons from Parvathi Krishnamurthy. She remembers being a very diligent student. 'It was the only activity for which I would prepare well ahead of time', she says. Then aged eleven when her teacher moved away, Supriya's mother had to find a suitable replacement. That teacher turned out to be T R Balamani, the eminent Carnatic vocal teacher. Supriya found herself with a group of students that included the renowned singer Bombay Jayshree and singer/composer Shankar Mahadevan. About the latter Supriya recalls, 'We could see that he was a born genius'. T R Balamani always gave group classes, never one to one, so that the peer learning would happen side by side with the training from the guru.
For the next decade, while going through her schooling and a Bachelor's degree in Commerce and Accountancy, the artist was attending regular training sessions and group practices with her fellow singers. 
...at twenty-two it was time to marry.
When at twenty-two it was time to marry, Supriya followed her doctor husband to his medical practice in Chennai. She had a full time job with HSBC bank and two young children, a girl and boy. Her brush with music came in the form of singing a jingle for the now legendary AR Rehman. At that time the composer of the silver screen had a small studio. However, given the demands on her time, there was little possibility of seriously pursuing her passion.
A posting to the UK with the HSBC bank in 1997, and then in 2005, a decision to give up her bank manager post to free herself fully for music, put the artist in the next phase of her journey. She had first to learn about the sector. She founded Mansasamitra, an agency for artists, and hosted performances. In 2011 a touring grant from the Arts Council supported two shows: Rudra, a contemporary dance piece; and Shivoham, a music performance that gave her the first inroad to producing and touring with herself as the key artist. These tours gave her the experience, confidence and self-knowledge to embark on the show that almost defines her working style – Lullaby.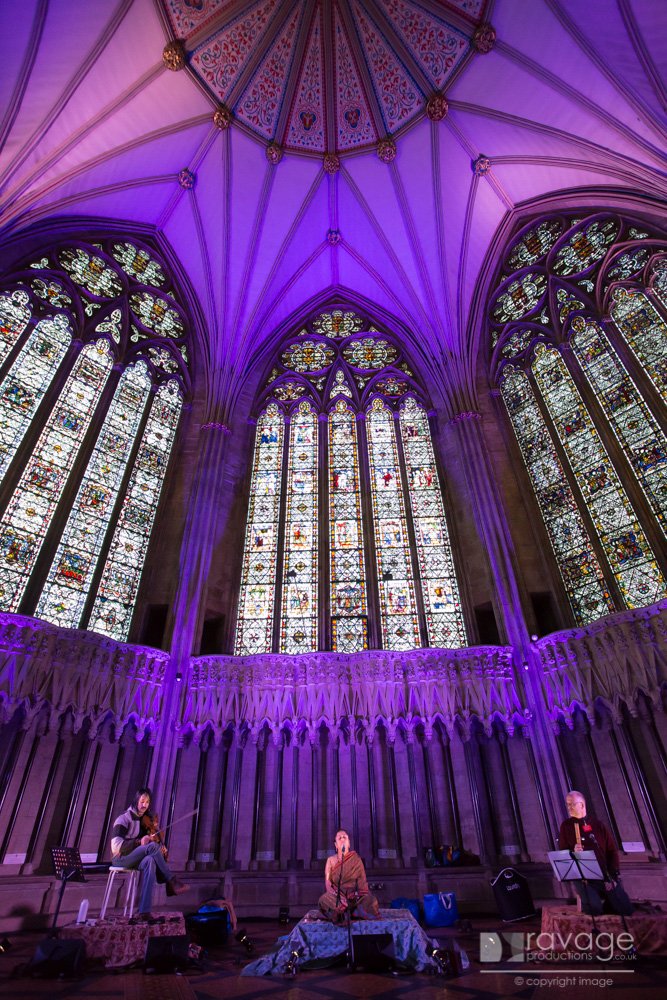 I ask her how she was able to establish herself in the third phase of her life so successfully. She admits that it was not easy, being a person of colour, female, on the wrong side of the age continuum. However, not to be put down in her pursuit to make a full time career in music, she persisted. 'I am a relentless networker', she tells me, and 'I make full use of social media'. Supriya attended whatever courses came her way: Sampad's  leadership programme, Aarohan, and the Clore Leadership course where she met Richard Whitelaw, who went on to work for the new music agency Sounds and Music. Supriya became one of the artists in their programme New Voices, through which she created an immersive piece The Sounds of Tea. In her signature style Supriya conceptualised the piece as multisensory, deploying computer wizardry to capture the audience response that would influence the show. The premiere took place at Kings Place, just before the lockdown, but the tour had to be cancelled. The plan is now to capture the content digitally.
...Jarvis Cocker... was amazed she had no recorded music.
Returning to where we started, on Friday 20 November 2020, the artist releases her album Dusk Notes, created with collaborator and sound artist Duncan Chapman. It uses spoken word, sounds from nature and two vocal tracks. The album has a lovely back story: the launch of the Be Kinder campaign at Yorkshire National park was guested by Jarvis Cocker of the band Pulp and presenter on BBC Radio 6. He was very taken by her when he heard Supriya's rendition of Edale (now on the album), and was amazed that she had no recorded music. Dusk Notes arose from that encouragement. I would recommend that track, to anyone and challenge them not to love it! The pristine tone of the artist, the sympathetic accompaniment and the beautiful layering of voice in the mixing makes it an ethereal experience. In my opinion, with only two extended vocal tracks, I would have been ready to receive more of Supriya's singing. Perhaps the next steps are to experiment with rhythm and pace and more variety of dynamics.
We look forward to the artist's next steps, she has a lot, lot more to give.
Dusk Notes is released on Friday 20 November 2020. It will be available on all major streaming programmes- Spotify, Apple, Deezer, Amazon etc and as a digital download from https://manasamitra1.bandcamp.com/album/dusk-notes
Sounds and Music to read more about the New Voices  Sound and Music, national agency for new music