Reflections of an Indian Dancer
Reflections of an Indian Dancer
BSDC with Sooraj Subramaniam
9 November 2022
Midlands Arts Centre, Birmingham
Reviewed by Katie Ryan
Photo: Malcolm Johnson
Balbir Singh has made his mark on the UK dance scene over the past twenty years with an eclectic body of work blending wide-ranging genres with kathak. His eponymous Company repeatedly demonstrates there is a firm place for Indian dance throughout the cultural fabric of the UK, and it's often where you'd least expect it: an ice rink, a rugby stadium or even a swimming pool. A studio theatre at Midlands Arts Centre feels like safe ground. Presenting classical Indian dance, albeit with a theatrical lens, within Shout – Birmingham's queer arts festival – nevertheless shows the confidence BSDC has to promote Indian dance in this context, and embrace the sexuality of tonight's performer as a key facet to his identity as person and artist.
Belgium based, much of Subramaniam's work has been with UK based choreographers. UK audiences have been privileged to see the development of a rare performer who is a true polyglot: at home with bharatanatyam, kathak, odissi and contemporary styles. Singh and Subramaniam have previously worked together with themes of identity and the boundaries of genre, in works such as Decreasing Infinity and I am not an Indian Dancer? Reflections of an Indian Dancer differs from previous works in its explicitly autobiographical solo format. Here Singh and Subramaniam have moved from roles of choreographer and dancer, to that of director and dancer / writer / narrator.
In a nutshell, Reflections of an Indian Dancer does exactly what it says on the tin: the audience spend an hour or so in the company of Subramaniam in his 'Green Room' as he prepares to perform: warming-up, making up, dressing up and marking steps as his mind wanders through formative memories and reflections on the three Indian dance styles he holds dear. Whilst a simple set (ironing board, yoga mat, dressing table and mirror) and a sparse punctuation of 'back stage' announcements hold us to this construct, Subramaniam draws us into his interior world through dance and text delivered in voice over. After a few warm-up moves, Subramaniam marks fragments of a dance phrase in bharatanatyam, recalling his introduction to the style through his grandmother's influence, his South Indian heritage, and darker childhood memories of parental bereavement and the humiliation he experienced as a playful cross-dressing child. As fragments of dance build to a full composition depicting the radiant power of Shiva in Guru Adyar K Lakshmanan's Nandi Chol , the bharatanatyam aficionados in the audience sigh in appreciation at Subramaniam's agility, clarity of line and rhythmic ingenuity. 
As a dancer Subramaniam is articulate, elegant, and projects a wonderful sense of calm. His writing style is not dissimilar. Having read snippets of his writing on social media, I had an inkling of his skill, and was not disappointed by the luminous poetry that ornaments the text throughout. As Subramaniam journeys on to odissi, he riffs on the 'S' shapes and fluidity which permeate this style. Echoes of Raga Kalavati permeate the soundtrack and the dancer's movement as Subramaniam is drawn into the steps of a Pallavi by Guru Deba Prasad Das. Pausing to articulate the dancer's process when performing abhinaya, Subramaniam portrays Radha's desire for her beloved in a verse by Banamali, expressed with an immersive emotional purity. We are watching a 'performance of a performance'. Moments like this give insight into the lived experience of the dancer both in the moment of performance and in its painstaking preparation. This is layered over performed character and autobiographical anecdote, enabling the audience to appreciate the rich complexity of the performer's experience.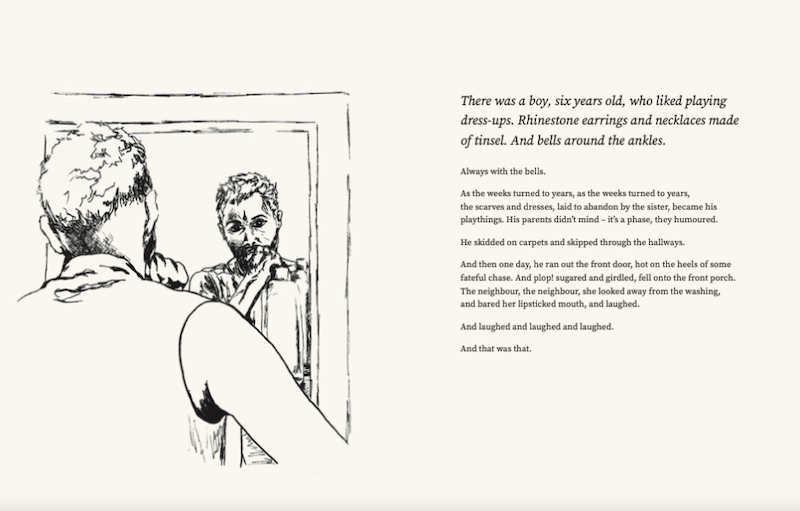 Finding affinity with the sea-like fluidity of odissi, Subramaniam draws parallels between the centuries old maritime cultural exchange between Odisha and the Malay archipelago and his own family's migrant experience as Tamils in Malaysia. He posits that although his migrant heritage may deny him a secure feeling of belonging, it gives him 'wings'. He might have added versatility and adaptability, which is demonstrated in no uncertain terms as he once again switches mode, this time to kathak. Whereas Subramaniam conveys clarity and rootedness in his bharatanatyam and warmth and sensuality in his odissi, there is an exciting element of abandon he brings to his kathak. One feels he is letting go here as he extols the virtues of every minute detail of the kathak palta (turn) before breaking into Tarana in Raga Puriya Dhanashri.  Brimming with emotion, yet with the awareness to avoid self-indulgence, Subramaniam sinks to the floor to words which drip with melancholy in a poem of heartbreak, leading towards the final piece of repertoire. Hearing his 'final call', Subramaniam dons a gold embroidered ivory sherwani, checks his reflection and teeth for any stray specks, applies a misting of perfume and stands at the wings. As the introduction to Mora Piya plays, he slips through the wings, and, after a moment's blackout the Green Room set has disappeared and we see him take to the stage. The evening culminates in this weighty yet wistful composition, a poem of longing set to music by Kadamb and choreographed by Sanjukta Sinha.
A choreographic opportunist in the best sense, Singh has provided the conceptual framing and light touch direction that has allowed Subramaniam's voice to flourish. Beautiful, insightful, comic and poignant this is a work full of warmth and charm. I recommend it to anyone with interest in Indian dance…or just anyone really!
BSDC – Reflections of an Indian Dancer