Manch UK Platform – Impressions that linger
During the COVID-19 lock-down days, spirits were lifted as the South Asian dance sector connected virtually on the Manch UK Facebook platform. Sanjeevini Dutta recalls some of the revelations that shook and delighted.
Manch, 'a performance space', was occupied every evening at 6 pm starting on 1st May for twenty-seven days with a dance artist beamed via Facebook Live from their home to the viewer. They came from diverse locations, from London, Leicester and Birmingham to Chennai and Karachi. The show was the dream child of Mira Kaushik, four months into retirement from Akademi; it started off as a casual posting on Facebook for a daily dance presentation and evolved into a spoken word feature with dancers sharing their artistic journeys. The backroom powerhouse navigating the virtual spaces consisted of marketing professional Ambika Kucheria of Raw Mango, with Subhaluxmi Mukherji, Vidya Patel and Suhani Dhanki. All four worked on a voluntary basis and their patience and professionalism made them the objects of great affection and appreciation from all the artists.
Aakash Odedra, kathak star, opened the series standing in his beloved garden in Leicester, which he told us had been landscaped by his neighbour. He confided with brutal honesty that he hated the place of his birth, Birmingham, and one could appreciate how he has created the beauty around him that he must have hungered for as a child. As one of a large family with number of siblings, we get the picture of a chaotic childhood and learn of his trip to the familial village where he was a Krishna-like cowherd for several months, missing school altogether. How dance found him, and his dual training in kathak with Nilima Devi and bharatanatyam with Chitralekha Bolar, is well known. The mentorship from Akram Khan and the seminal tour of Rising which consisted of solos choreographed on him by leading contemporary choreographers was the breakthrough of his professional life. Aakash skipped lightly over his successes, joyfully leading us to the shed where he keeps his homing pigeons, which told us as much about his sensitivity as his wonderful rendering of the Bulleh Shah's 'Upne Range Mein Rangdai'. We would be able to catch the dance at a performance, but not hear his life story told in his own words. Therein lay the uniqueness of the Manch platform, artists in control of how they told their life-stories, on their own terms standing on their home turfs. We were hooked.
Night after night we were enthralled by narratives of courage, endurance, humour and humanity. Monisha Patil Bharadwaj had lost her entire dance memorabilia – she had not even a photograph to show her illustrious career, we assume as she fled a disastrous marriage. She returned to the UK with her two children and made a new career as a celebrity chef to support her young family. 
It was impossible to believe that softly-spoken Subhash Viman had faced such harshness from his disciplinarian father that the whole of his summer holiday was given over to household chores. To top that, as a teenager Subhash had his head battered by racists thugs from his secondary school so badly that it needed twelve staples as stitches would not hold. Worse was to come, as the police disregarded his story and the perpetrators got off scot free. Despite that, Subhash has not lost his sweet nature. How rare a quality to suffer and not be left with residual bitterness! Subhash was saved by dance, on which he embarked on at the ripe old age of 21! 
Again it was the prerogative of the artists to give their accounts; such frank narrations written on the page would be almost too shocking. In Pulse for instance we would critically review Subhash's dance works, and could mention the racist violence meted out to him in reference to his work; but not the full description of the three hoodies descending upon him from atop a hill, as he described the incident.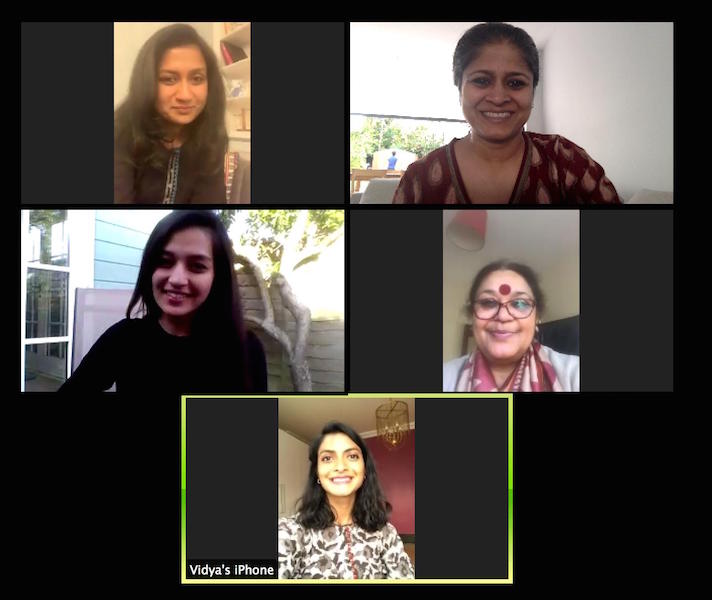 The Manch UK Team: Top right- Ambika, Subhaluxmi, Suhani, Mira and Vidya
There were wonderful stories of the role played by teachers, gurus and unexpected mentors: Shyam Benegal finally putting to rest Sonia Sabri's parents' obsession with Bollywood with, 'Good girls don't go to Bollywood;  Mavin Khoo arriving at his guru Adyar Lakshman's home when at his lowest ebb and being told to borrow the guru's own practice clothes to be ready to take class, no questions asked; Sooraj Subramanian's dance teacher's cruel-to-be-kind remark that he would never make it as a ballet professional.  There were also numerous cases of teachers forgoing fees where they spotted talent and a genuine desire to learn.
The most enchanting of all were the accounts of childhood – the sights, sounds and smells recollected. In fact, little did the presenters realise that from a third to half their total time was given to sharing their early memories, so vivid and rich in detail: beloved grandmothers saving up tasty tit bits to share surreptitiously (or did I get that from Pather Panchali?) ; hearing mothers sing; the woody smell of khus in the afternoons; childhood pranks - Sujata Banerjee taking her dance masterji speeding down the slope on her bike; Ashwini Kalesekar knocking on her own front door carrying ghungroos in a pouch, asking admittance to her mother's dance class.
You will forgive me if I recall the personal stories more than the list of teachers and successes. I, like many others, was gripped by the small details, the imagery that will live on. I am glad to know my dance colleagues at a deeper level and salute their struggles and successes. Thank you Manch, for bringing their stories to our consciousness.