Insta Stars- Eshani Sathe
The second profile in the Series takes us to Mumbai and to an 'Insta discovery' that led Sanjeevini Dutta to locate and converse with the kathak artist Eshani Sathe. 
It seems highly improbable that one should discover an artist via Instagram –  after all, how can a medium designed for a 'visual-bite' convey anything of depth and substance? Yet, I was taken by surprise. I had randomly come across some Instagram postings that I found compelling – I found a dancer who struck me both by her quiet and restrained beauty, by her refined movements and natural abhinaya. The clips were tastefully filmed with attention to lighting, dress and colour. I recall one baithak bhav, in which the artist just shows the crafting of agarbati (incense stick) – it was so simply and powerfully conveyed. I had no knowledge of the artist's background, only a strong hunch that this dancer had been schooled by a qualified teacher and had undergone intensive training. Dancers are not just 'born' but have to also be 'made'. Of course, it came as no surprise when I googled her full name: Eshani Sathe has been trained by her mother Shrimati Radhika Sathe and guru Pandit Rajendra Gangani. I was thrilled that it brought home (if I hadn't already known) that a dancer's quality shows even in one or two minutes of performance and that classical training is essential to draw out the finesse.
The subject of this essay is 'Insta Stars' and I hope Eshani will forgive me for introducing her so. I wanted to understand how she deployed her skills as a dancer to use Instagram to promote her work; and also, from the commercial side, how sponsorship from brands works and what it is worth.
Eshani and dance
First, Eshani's background: she was born in 1990 to Radhika and Kiran Sathe in Akola, a small town in the interior of Maharashtra, 350 miles away from the state capital Mumbai. Her mother had been a Professor of Physics at nearby Amravati University, but finally decided to quit teaching and set up a dance academy, Kathak Nritya Mandir in Akola, which she then expanded to Nagpur (three hours by train). (Radhika Sathe's story is pretty remarkable too – she embarked on kathak training as an adult from Madhurita Sarang, who lived in the neighbouring town Amravati as there were no teachers in Akola; and she went on to take master classes from the great gurus of both Lucknow and Jaipur gharanas). Eshani imbibed dance watching and participating in dance classes from the age of three-and-a-half years onwards. At seventeen, when she moved to Nagpur to attend a 'better college' she was also able to take regular workshops with visiting kathak guru Pandit Rajendra Gangani. As a teenager she says, 'he was my idol, I adapted my thoughts and energies to his direction'. 
Eshani recalls the point at which she realised that dance was her true vocation.  Sitting in the lecture hall with two hundred students undergoing their 'orientation', she found herself in tears. At first she couldn't understand why and finally she realised that she desperately wanted to be in a dance studio instead. She would happily have given up formal studies but her parents would not hear of it. So she started teaching kathak classes alongside studying for a Bachelors in Computer Science.

Eshani and Insta
Marriage took Eshani to Boston in the United States, and whilst touring a solo show in Boston, she encountered Sriram, the founder of Indian Raga, the producers of on-line content of Indian classical arts. She was encouraged to apply for a Fellowship and this was a turning point for Eshani's digital presence. 'Being awarded a Fellowship from Indian Raga was a huge learning experience. It was phenomenal to explore kathak for the lens. To know that this one movement can be explored in five different ways'.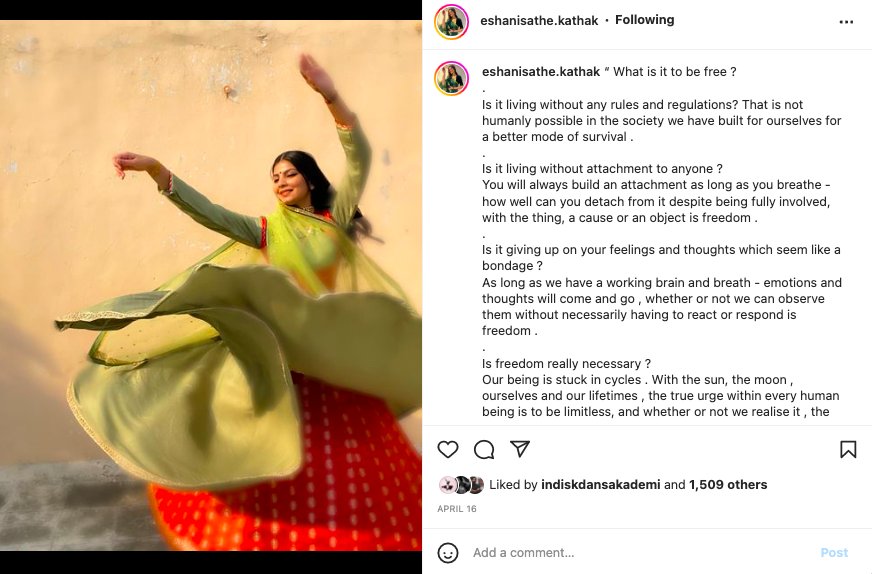 From Indian Raga, Eshani learnt the 'serious side of social media' and her own interest in learning editing was sparked in the making of a digital piece, Shakti. Instagram won her an offer for a digital performance for the United Nations Development Programme. However, she feels that live performance is another matter and a digital platform is unlikely to get her any live performance work.
Eshani attributes her Instagram success – 41.4K followers – to an in-depth study of the medium. She says that it's important to post on a daily basis, drawing an analogy: 'you need to call and see your friends on a regular basis, or you cannot have a social life'. She is also highly aware of 'camera angles and colours that work'. The growth of followers has been steady, with occasional spurts. However, she can offer no insight into why certain posts go viral – 'it seems to me to be completely random'.
Eshani uses Insta for her business – many students are attracted to classes (she teaches in Mumbai under her mother's institution KNM) via her Insta Reels. With the volume of enquiries from Instagram, Eshani has to employ administrative help and she recognises that it is also important to have someone to film her reels. The commercial success of her Instagram endorsements, from fashion brands handbags and saris to skin care products, is consistent and a steady income generator. The brands include: Suta, Teejh, Chhidiya, Aaya, Fab India, Belora Cosmetics and Tilak Music, amongst others. When I ask her how she keeps her balance between art and commercialism, she laughs, 'as my guru says, keep the two distinctly apart so as there is "no fusion or confusion"'. Looking at Eshani's postings and reels, there appears to be an aesthetic integrity that is maintained in both.
'I would like to concentrate on developing my own performance material now'. The move from digital to the stage is daunting. Pulse would love to see that growth in Eshani's dance career where she goes full out to pursue live performance. Will the Insta followers follow her into the theatre? One sincerely hopes that even if half a percent of her followers came to support her shows, she would always have an audience.