The Hum in My Heart
The Hum in My Heart: Luton Story
Amina Khayyam Dance Company
13 February 2020
The Hat Factory, Luton
Reviewed by Sanjeevini Dutta and Gopa Roy
Photos: Simon Richardson
The Hum in My Heart is an immersive event imaginatively conceived and artistically directed on the theme of mental health by Amina Khayyam. The aim is to open conversations on a taboo subject: 'The Company is particularly concerned with issues that affect marginalized women, not just from the mainstream but from within their own communities. It is from there that it draws its inspiration to tell stories…'.
The Hum in My Heart: Luton Story is part of a larger project, using kathak with physical theatre and live music, which the Company has developed out of workshops in communities across Woking, Birmingham, Luton and Tower Hamlets. 
Deeply moving, uncomfortable performances shake the audience to the core. Particularly effective are the three short vignettes: a reluctant bride, a potential male suicide and an elderly woman holding the thread of her life through her love of dance, together with poetry from a spoken word project, 'Mother Monologues'.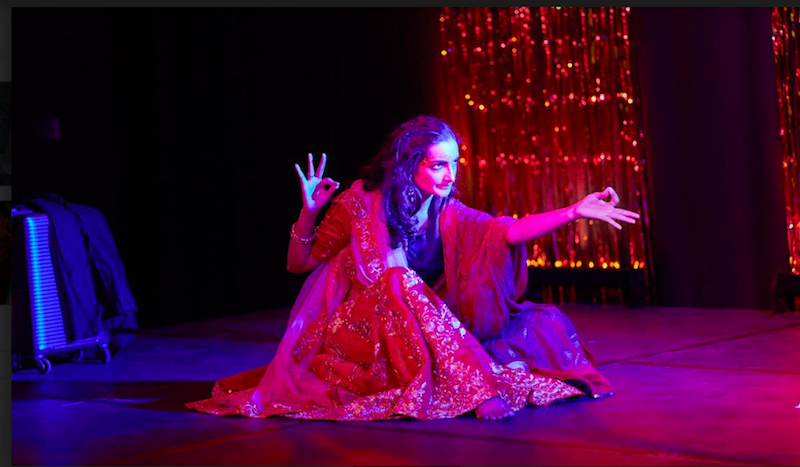 Parbati Chaudhury in RED & BLACK
RED & BLACK
A bride to be is dressing herself in preparation for her wedding ceremony. Dressed in a gorgeous red and gold lehenga and choli, sitting majestically against the background of lurid gold and red glitter curtains, there is a manic intensity in her face and robotic, puppet-like movements define her. As she stands up we see that half of her is dressed in black. The ambivalence of her situation is graphically conveyed through dress and the black underskirt that is being held up – even that threatens to fall away to reveal her nakedness. This stripping away is brave, for a kathak dancer, and potent. The desperation and indecision are suggestive – of a forced marriage, domestic abuse, mental illness? The kathak movement served the emotion, and it was a mesmerising performance by Parbati Chaudhury. The music was integral to the performance, with Iain McHugh's harsh, grating cello sounds, and Debasish Mukherjee on tabla, alongside the recorded music.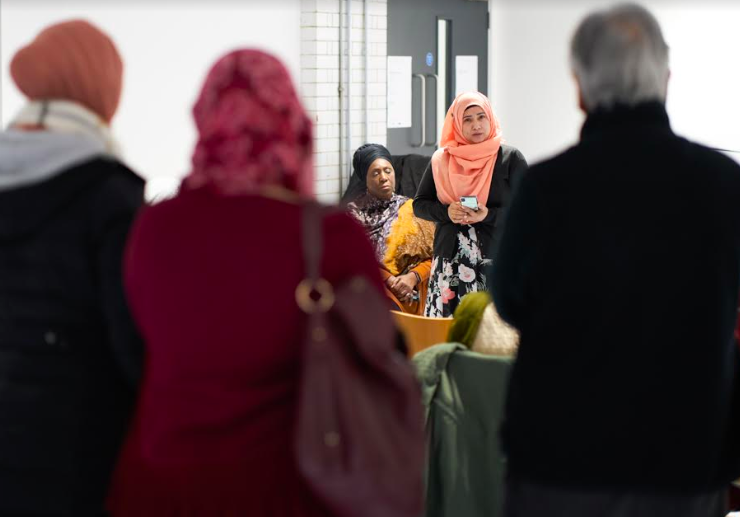 MOTHER MONOLOGUES
Three Luton women under the direction of Shemiza Rashid share poems and writings on life experiences. There is a strong feeling of support and comradeship between them and the audiences that gathered around. The painful feelings of loss, depression, financial ruin are lightened by sharing in an empathetic space.
See Mother Monologues on March 6th, International Women's Day.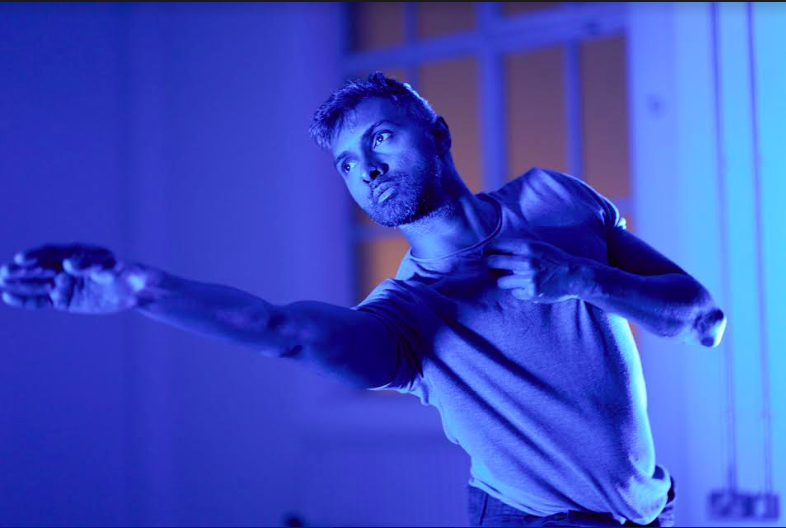 Sooraj Subramaniam in MAN/AADMI
MAN/AADMI
Before us is a white strip/pathway with a pair of sports shoes and a noose at one end. Visuals of a broken doll, discarded syringes, heaps of capsules and poisonous mushrooms are projected on the screen. A man moves along the path, jerky, un-co-ordinated, seized by paroxysms of fear and despair; he wears the pair of shoes on his hands, so they become a pair of boxing gloves, until a child's pair of shoes emerge from the big shoes. For a moment we think that the childhood memories will be enough to reverse the inevitable – but when the shoes are crushed underfoot, we realise the utter hopelessness of the situation. Brilliantly conceptualised and convincingly played by Sooraj Subramaniam, this is a powerful piece of dance theatre that chills the heart.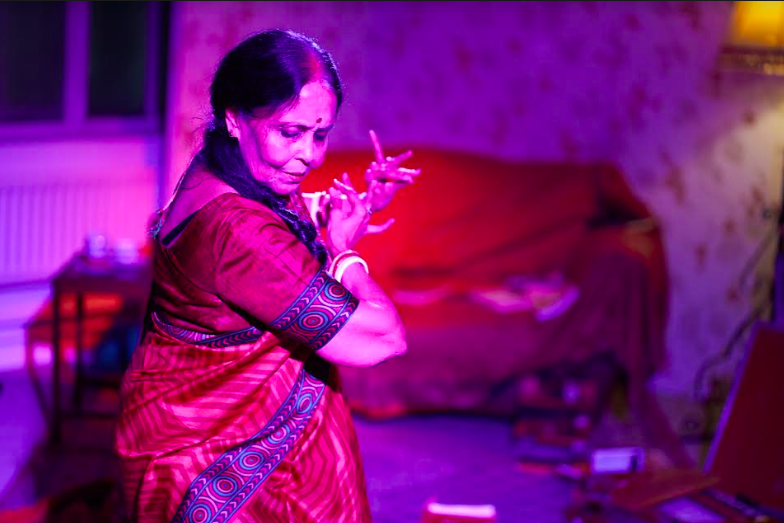 Bisakha Sarker as the SECRET DANCER
SECRET DANCER
The warmth and humour of this piece are welcome. Bisakha Sarker, a mature dancer trained in the Uday Shankar Creative style, has always been an original voice of South Asian dance. She plays an older woman now widowed, going through the motions of household chores, with the props suggesting tragedy in her child rearing; yet she keeps her spirits together through her secret passion for dance. She clears the clutter of her life and, humming a Tagore song, she defiantly dances her heart out, suffused with joy and inner beauty.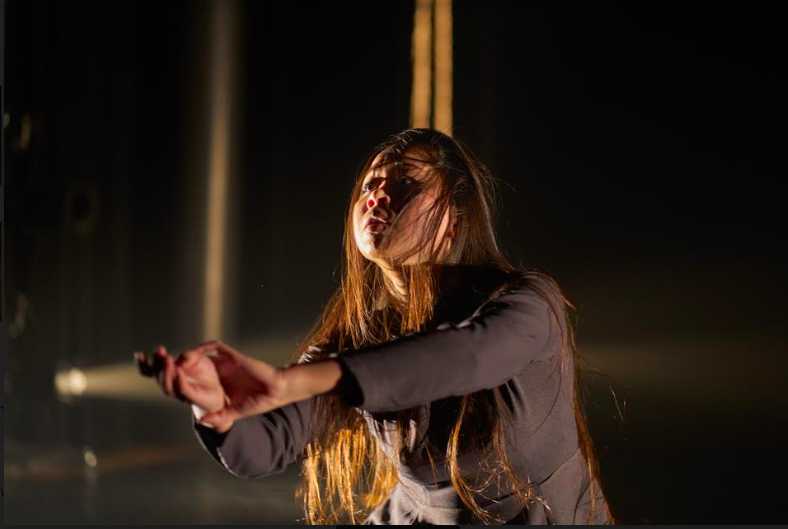 THE HUM IN MY HEART
It is now 7.45 and we have gathered in the main theatre. The large space is filled out with young people (Performing Arts students from Brunel University). Down stage left a young woman is seated on a chair and up stage right is a broken swing with a young woman in a salwar kameez who is rocking from side to side. Based on a story by Saadat Hasan Manto, about a young girl's simple desire to swing, the director choreographer has used it as the inspiration for a piece performed by singer Rup Khatkar and kathak dancer Jane Chan. 
The dancer shows her despair and disappointment in scenes involving rolls and twists on the floor and kathak vocabulary is effectively deployed in foot work and pirouettes which lend energy and dynamism. The young singer standing on a chair and clutching her japa mala (rosary) as she sings of broken dreams is strangely affecting. The swing is repaired but we never see either of the women actually sit on the swing, and then the swing is dismantled. The ensemble of dancers is effectively deployed, executing simple, clean movements making a frame for the principal dancer who stands in the middle, stamping out powerful rhythms. Their hair is loose and lends an electric charge to the movements. Amina dances with her usual punch and power - the movements are led by the emotion. The parallel feet of kathak are lost to a more open stance, and deep body bends and extensions further morph the form – very characteristic of Amina. The form loses its prettiness to become a vehicle for storytelling. 
What we have witnessed is total theatre – kathak dance form, physicality, visuals and lighting, music and sound score deftly deployed in storytelling. The Hum in My Heart is the culmination of a journey that started with the Lal Shaari, through works like Yerma and A Thousand Faces. Amina Khayyam's work has matured to another level. The sensitive playing of the musicians is born of their long association with her company There is depth, skill, integrity, a hard-edge that is softened with empathy and compassion. Those of us who made the journey to Luton were able to witness a rare moment in Indian dance in the UK. 
'PHOTO YOURSELF' at the start, in the Foyer Café from 5.30, formed a pleasant preliminary. However, the evening that followed was difficult and full – possibly too full, as each painful item needed to be processed, and audiences felt somewhat overloaded; so it was harder for some to appreciate The Hum in My Heart fully.