The Banyan Tree Exhibition
The Banyan Tree Exhibition
Bhavan Centre, London
October 2021
The Banyan tree, renowned for its vast expanse, grand trunk and rooted presence, is less commonly known for the enormous ecological contribution it makes: it nurtures and provides an enabling environment for many other species to grow and thrive in its presence, including birds, fruit bats, primates and other creatures, which in turn disperse the seeds of hundreds of other plant species. A selection from Simon Richardson's twenty years of photography work for Pulse that is now being displayed as part of Pulse's Banyan Tree Heritage Project showcases Pulse's ecological contribution to the arts and artists in the UK. This was also beautifully depicted in the image I saw as I walked into the exhibition, of the many leaves branching out from the tree, with each leaf containing an image of an artist. I am a bharatanatyam dancer trained in India, with a keen interest in dance photography. New to the UK, I am still exploring the heritage of artists and the arts in the West, and for me, there could not have been a more exciting visual access to understanding its growing arts sector.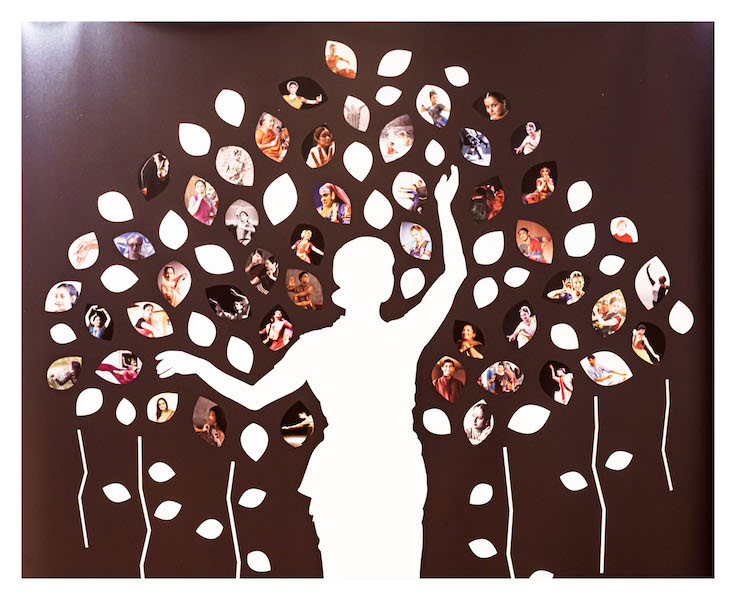 As I glanced into the room, it was evident we would be travelling through the rich diversity of classical dance performed and showcased over the years. I expected to see performance-oriented images, of artists on stage, in costume and make up, presenting a pose or in motion. There were indeed spectacular images from stage performances, with dim lighting and spotlights, focusing on artists' expressions, poses, movements. However, the diversity in Pulse's image selection was a pleasant surprise. It not only displayed what happened on stage, but also off it.  We caught glimpses of the artist's life beyond the stage, including practice sessions in dance class, in-studio photography shoots, community events with young children engaging in workshops, as well as more abstract and contemporary work. It was especially interesting to see how the images not only captured dance movements, but also mood and aesthetics. The combination of colour vs monochrome images especially enhanced their visual identity. Other combinations included full-frame poses vs close ups, solo and duet as well as groups, that reminded one of the possibilities in dance.
It crossed over generations, styles and venues; it included many eminent senior artists as well as more contemporary artists practising and performing kathak, bharatanatyam, odissi, and contemporary dance forms. It brought to life an extremely important aspect of dance history, the need to highlight the process of dance and a dancer's life, rather than simply focus on the end goal or final performance. . This exhibition gives you a flavour of how these different moments might have looked, had you followed an artist on their journey. It also highlighted something truly significant, that these other aspects don't necessarily have to be, and aren't, a means to an end. Over the years, Pulse in essence has attempted through its images to involve the audience and its readers in the process or 'journey' of dance, rather than simply have people attend 'events'.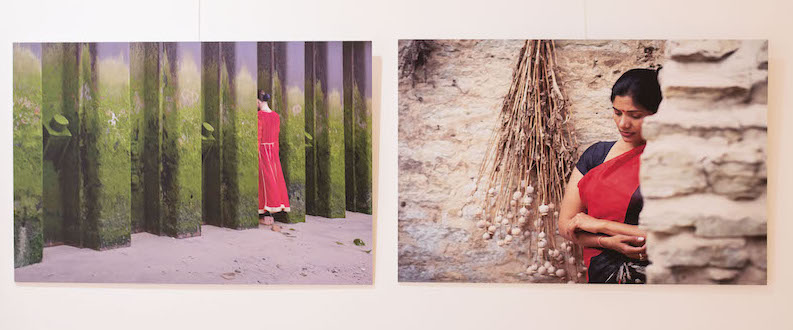 Speaking with Sanjeevini Dutta, Commissioning Editor and curator of the exhibition, gave me a sense of how Pulse has tried to create a space for people to engage with the arts rather than simply consume. The aim has been to nurture freedom of expression and conversation by providing visual representations of the art and artists  as well as through reviews, interviews and regular programme updates. The exhibition was a great reminder of this, and of the long journey and contribution of UK-based dancers to the vibrant arts scene that it is today, one that will continue to grow. 
The images were a visual treat and a treasure to be stored in the archive for anyone seeking to understand the history of South Asian arts in the UK. Perhaps there will be some that do amongst the group of children that were there for a small workshop organised by Pulse during my visit, as part of the project to engage the next generation – continuing to nurture many more and being true to the nature of being a Banyan tree!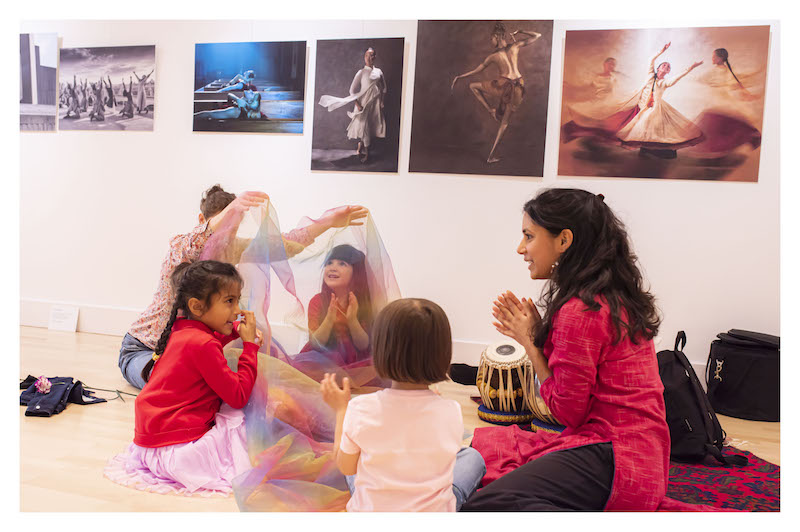 Photos on the walls by Simon Richardson | Images for this review by Pranita Choudhry
The exhibition has been funded by National Heritage Lottery
Pranita is a UK-based bharatanatyam dancer and social science researcher in the International Development sector working with charities and not-for-profit organisations.
Dates and venues for the Exhibition