West Meets East: A Legacy Revisited
Ishani Priya Patel, student of Satyam Dance, Milton Keynes reports on the Reverberate Project
Dance is a universal language that can unite our souls through rhythm and movement. The manner in which human beings have developed dance, however, is as diverse as there are nations and languages of the world. We have gravity-defying ballet on the one hand and the earth-bound percussion of Indian dance on the other, with limitless variations in between. Within this diversity, it is fascinating to discover the common ground. 
One recent example is Satyam Dance School's involvement with the Reverberate Project, an English Heritage funded youth engagement programme, in which three classical styles of Indian dance collaborated. The opportunity brought by their youth division Shout Out Loud, in collaboration with Sound Connections, enables local talent aged 11 to 25 to select an English Heritage site to re-imagine. It gave us great pleasure to dedicate this project to the late Helen Parlor, the founder of Parlor Dance and Mótus, who was highly instrumental in supporting Satyam's application to the Reverberate Project. 
The English Heritage site which inspired Satyam was the blue plaque scheme, which emanates from London, marking the residence of a famous figure. Debbie Ganguli-Patel of Satyam Dance found out that a plaque was to be unveiled in London in early July 2023, dedicated to the late violin maestro Yehudi Menuhin. The latter, throughout his career, was intrigued by Indian arts, in particular music, and collaborated with a number of different artists. We were introduced to three pieces of music, by Ravi Shankar, Stephane Graphelli, and Dr L Subramaniam, which were in collaboration with Menuhin, and we decided to select 'Swara Kakali' from the 1966 album, West Meets East, recorded at Abbey Road Studios by Shankar and Menuhin.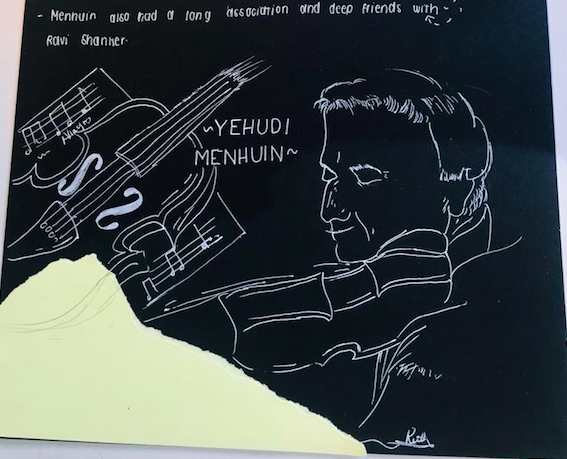 Satyam's piece featured a group of dancers representing three local schools, brought together by Debbie. She was eminently supported by the directors of the collaborating schools: Urja Desai Thakore (kathak) and Parvati Rajamani (odissi). For the students, it was a real treat to realise the parallels between the different styles. We had the challenge of setting South Asian dance steps to the unique fusion of Western and Eastern music; one kathak student, Liviya Arya, commented that the music itself "made [her] feel calm and had a tranquil atmosphere with a graceful beginning". Odissi dancer Zara Gulati commented that it was "nice to hear the violin combined with Indian Classical music".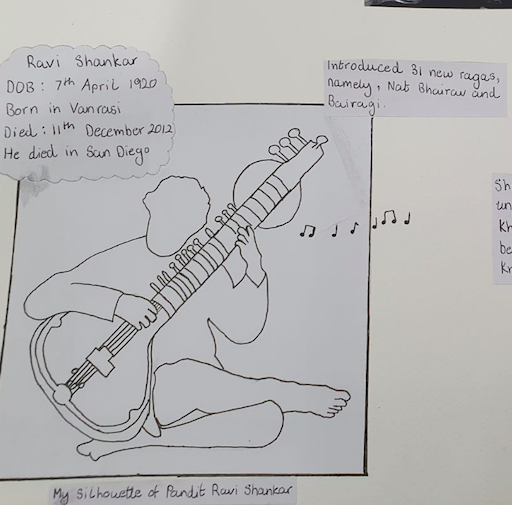 Aside from being versed in different dance styles, we were of varied ages, and levels of dance ability. The beauty of this project was being given the privilege to create something we all related to. The participants choreographed the piece by themselves along with producing artwork, poetry and analysing the music. Bharatanatyam student Bornini Das wrote a wonderful poem celebrating Menuhin, while kathak student Aarshia Mhatre said she "was really excited because [she] got to do art and got to dance as well". The rich material welcomed the integration of both Western and Eastern music, and the project itself was rooted in collaborations, from dance styles to new friendships. The final dance film, including interviews and works of art has been released for public viewing on Satyam Dance's YouTube channel. 
The exceptional gravitas displayed by these dancers and their respective teaching support has hopefully marked the first of many collaborations, as their emerging talents have opened some exciting doors. 
The full dance video can be watched here: 
https://youtu.be/x6zlj0gqKws?si=OMpRDik0g0TU2dF3 
Participants
Bharatanatyam Students of Debbie Ganguli-Patel from Satyam Dance:
Aarushi Kalmady, Ameya Polavajram, Ishani Priya Patel, Ananya Pyaraka, Ruth Biju Matthews, Bornini Das, Ovi Bokhil, Shrika Nookala. 
Kathak Students of Urja Desai Thakore from Pagrav Dance: 
Elisha Arya, Mahika Thakore, Adrija Ganguly, Aarshia Mhatre, Liviya Arya. 
Odissi Students of Parvathi Rajamani from Ananda Arts: 
Aniqah Ali, Zara Gulati, Meira Gulati. 
Senior Dance Assistants: 
Sandhya Arun (Bharatanatyam). Ashwini Mhatre (Kathak). Sheeba Taneja (Odissi).