Madhavi Mudgal's Vistar at Darbar Festival
Madhavi Mudgal's Vistar
Darbar Festival
26 November, 2019
Sadler's Wells, London
Reviewed by Donald Hutera
Photos by Rehmat Rayatt
There were two standing ovations on consecutive nights at the 14th edition of the Darbar Festival. In the first instance, in what seemed a spontaneous act of communal appreciation, the audience shot to its feet at the end of Mavin Khoo's dance created for a blazingly good all-male cast from Malaysia's Temple of Fine Arts. The following evening the response to Madhavi Mudgal's Vistar, danced by an equally well-attuned, seven-strong all-female ensemble, was nearly as warm if less immediate – more of a measured rise than an eruptive rush, but a reaction befitting the slow-building, less tightly-coiled gift of a performance we had just finished receiving.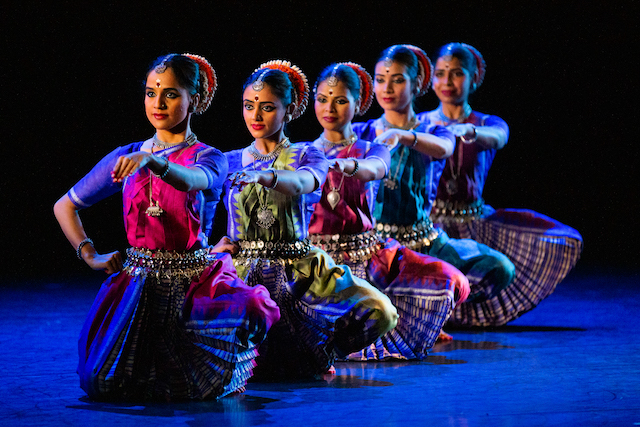 Mudgal's chosen genre is odissi, a style of classical Indian dance seen less often in the UK than bharatanatyam or kathak. Mudgal takes the form's codes (whether based in nritta or abhinaya) and deceptively softer physical architecture and shapes these elements into satisfying, variably complex patterns without losing their internal dynamic drive. There is evidence of mastery, even if her work was presented at Sadler's Wells in a rather old-fashioned – yet serviceable – concert format, the five sometimes overlapping segments of dance tending to be given explanatory introductions. Another, grander and more frequent prelude was visual: Aideen Malone's striking, memorably undulant installation of (by my count) 441 suspended lights which, depending upon how they were positioned, significantly enhanced the performance happening below them. Malone's lights danced, and were themselves further enhanced by the more conventionally-located stage lights deployed with sensitivity and sophistication by Ric Mountjoy.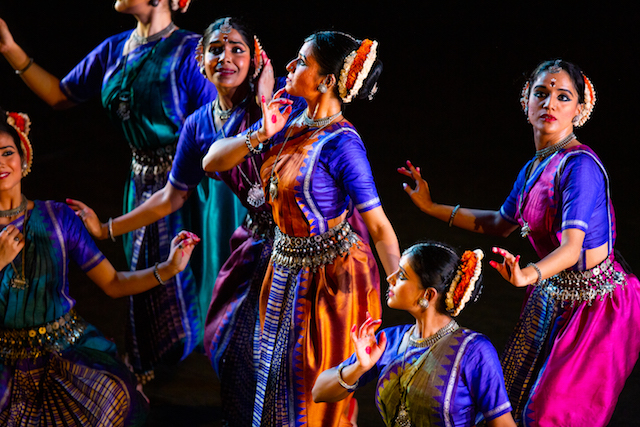 Mudgal's first dance, Ganga Stavan, was an invocation both to, and of, the sacred waters of the river Ganga. Liquidity manifested itself in waving arms and the rise and fall of swaying bodies neatly wrapped in iridescent traditional costumes. The dancers' serenity and almost perfumed sense of grace took on additional colourings in Trayi, or 'Three,' a title referencing India's cyclical changes from spring to summer to the monsoon season. Fuelled by some occasionally hauntingly effective, tradition-steeped compositions played by six musicians (including Mudgal), the women initially flitted about, briefly fluttering bird-wing hands. Then Mudgal, wearing a less flashy sari than the others, inserted herself physically into the picture via a solo. She has stage presence to spare, exuding a mature beauty thanks, in part, to her warm, subtle expressivity and unforced manner
After her departure the younger women's dancing shifted towards something simultaneously dreamy yet alert, a duality only slightly undermined by one of them: a skilful performer whose relatively short solo lacked the almost indefinably quiet power of Mudgal's cameo. The subsequent group dancing, however, underlined the cast's highly-developed awareness of each other – as if, having emerged from the same metaphorical chrysalis (presumably as a result of being Mudgal's disciples) they now breathe the same rhythm-infused air. This shared corporeality was brought further to the fore in Teevra Madhyam, a sharply playful translation of sometimes dense, even jazzy, musical motifs frequently evoked via movement in unison or canon.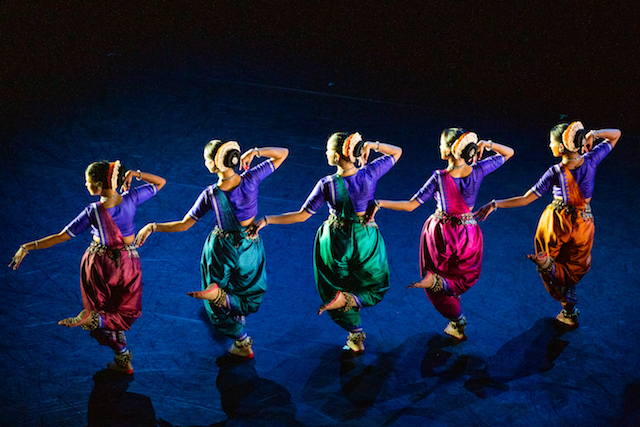 After an interval the dancers returned for Oriya Song, a depiction of Radha's infatuation with Krishna – framed by the reactions of those around her – that had folded into it original choreography by Mudgal's guru, Kelucharan Mohaptra, for a solo. This work was somewhat of a showcase for company members' individuality without sacrificing gratifying, precision-tooled group motifs. Saving the best for last, Mudgal gave us the bill's most absorbing and captivating dance. Pallavan began with slow, sculptural poses that, cued by the metric impulses within Madhup Mudgal's music, segued into increasingly layered choreographic geometry. Devised with unshowy genius, and full of seamless shifts of focus, Pallavan packed an almost thrillingly restrained, thoroughly-crafted punch. A great finish to a pretty fine programme.