Kattam Katti
Kattam Katti 
Pagrav Dance Company
Lilian Baylis Theatre, Sadler's Wells, London 
Reviewed by Donald Hutera on November 18, 2021 
As with many live performances conceived well before but subsequently delayed by the pandemic, Urja Desai Thakore's latest work for Pagrav Dance Company has been a long time coming. The wait has been worth it. Kattam Katti, as this highly creditable new touring production is called, combines an original concept with a pretty beguiling execution.  
In making this approximately hour-long show, the Milton Keynes-based choreographer and artistic director has tapped directly into her own, culturally specific roots. Her source of inspiration was the world-renowned kite festival known as Uttarayan. Held in Gujarat, North India every January, this hugely popular event marks the transition from winter to spring. It also attracts millions of people to the region regardless of their religion or social class. And all of them share one goal: to fly their kite higher than anyone else.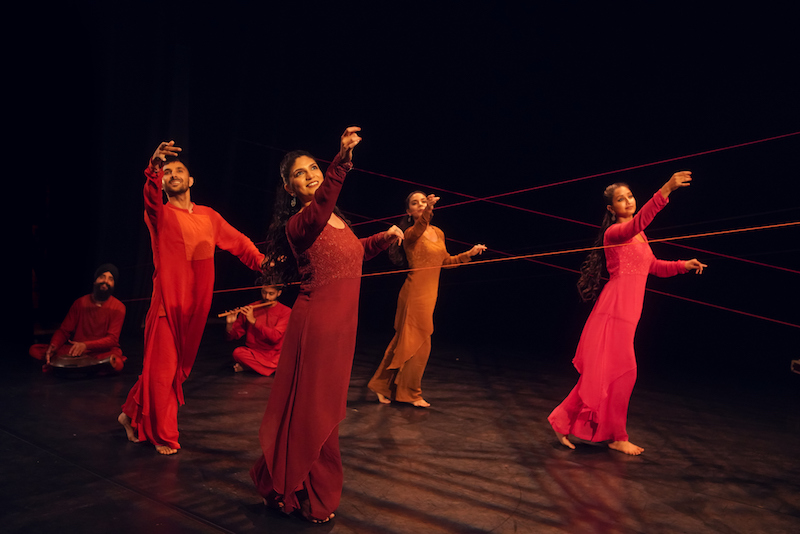 Although Uttarayan is celebrated all over Gujarat, its most exciting location is said to be in the capital city of Ahmedabad. The festival has personal resonance for Thakore because Ahmedabad is her birthplace. It is the underlying social inequities of Uttarayan, as much as the festival's thrilling and colourful spectacle, that seem to have drawn her to it as subject matter for dance.  
Uttarayan, it turns out, is extremely competitive. Participants go so far as to coat their kite strings with glass pigment; while this is visually appealing, it is also designed to cut the strings of other kites. (It is worth noting that the show's title translates as 'Cutting Through.') And with ingenuity comes injury: wounds are not uncommon. Furthermore, wealthy penthouse-owners take advantage of economic privilege by launching their kites from the highest rooftops. 
While such details might enhance one's understanding of the show's context, they are not its essence. Staged with artful economy, and featuring a cast of four dancers and as many musicians, Kattam Katti is a solidly entertaining, well-crafted piece that deftly integrates movement (principally the traditional South Asian dance form kathak but placed within a contemporary or neo-classical framework) with a live soundtrack that Thakore herself arranged, rather than composed. Atop this is set a light skein of characterisation,  expressed via both individual aspirations and sometimes conflicted interpersonal relationships, that together follow an acceptably skeletal narrative arc.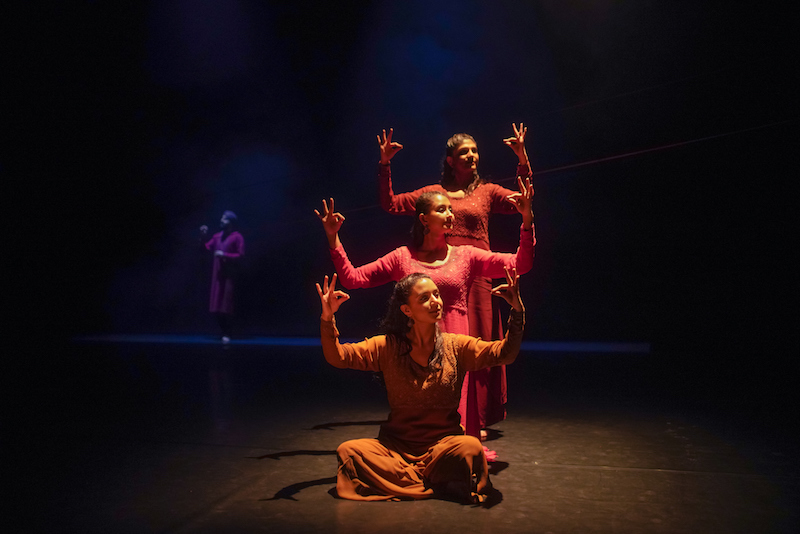 There are three female dancers in, capable and spirited movers all: Meera Patel, Mira Salat and Saloni Saraf. Thakore's knack for eye-catching stage pictures was especially evident when this trio formed a totem, one sitting, kneeling and standing respectively as each constructed her own (mimetic, not literal) kite. The cast's lone male is Subhash Viman Gorania, a virtuosic dancer who embodies what is perhaps the most clearly-defined role – that of an impulsive go-getter whose behaviour sometimes slips into a kind of childish, patience-testing pettiness. His push-and-shove skirmish with Saraf leads to a collective argument, both signaled and fueled by 'ta-ca-ta, ta-ca-ta' rhythms, that also ensnares the musicians. Patel assumes the role of peace-making referee, which in turn segues into the work's most choreographically sustained and ample passages. As the ensemble rises and falls in spirals, their shifting motion acquires increasing drive and sweep – almost as if the dancers become their own kites. The effect is uplifting and celebratory.  
Significantly, the kites are all in the imagination – the dancers and ours. Kathak, with its fast spins and reaching arms, lends itself well to this savvy choice. The dancers, grounded, yet with their gaze craning upwards, adeptly enact the urgent holding and pulling of invisible strings, punctuated with the occasional gazelle-like leap, as they follow the paths of unseen individual kites. The strategy also works thanks to Simon Daw's simple yet eloquent set of long, red strings stretched tautly across the stage;  offstage mechanics eventually allow these strings to rise higher, as if attuned to the dancers' collective aspirations.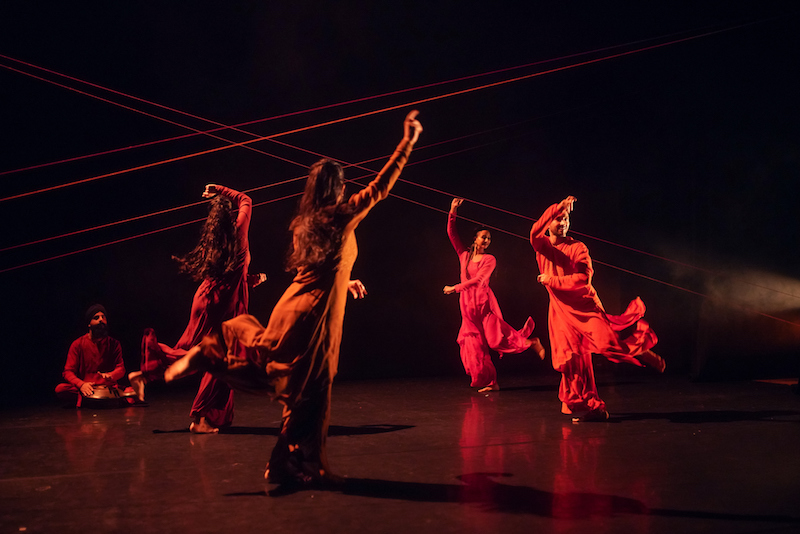 Praise is also due to the music and the musicians: Gurdain Singh Rayatt, Hiren Chate, Kaviraj Singh and Praveen Pratap. This quartet roams about as they play or, in the case of at least one man, ruminatively vocalise. What was gratifying about their presence and participation onstage is the ear-magnet of live sound they provide, and how unaffectedly they interact with the dancers as part of an onstage community. 
Donald Hutera is a veteran freelance arts writer and performance-maker who is currently a member of Rhiannon Faith Company and Posh Club*Dance Club.