For the dogs, the foxes, and the cats.
nāi nari pōnaikkum dhān
Indha yeri kuLam kōda sonthamadi
'This lake and pond belong to even the dogs, the foxes, and the cats.'
Can we bharatanatyam dancers take lessons from the mainstream to speak to everyone?  I mean everyone!
The song Enjoy Enjaami unabashedly celebrates samaththuvam (roughly translated as egalitarianism) for everyone born on this earth; and it is political too. The aforementioned lines are the lyricist Arivu's tongue-in-cheek way of expressing his opposition to the recent 'acts' and 'registers' created by the Indian government. In late 2020, I wrote about the sangam tradition and its relevance even today.* One could see Arivu's lyrics as a modern version of the puranānōru lines yādhum ōre yāvarum keLir ('to us all places are our towns, everyone is our kin'). 
Enjoy Enjaami is a foot-tapping number with an intelligent mix of genres of music (hip-hop, rap, and oppāri – Tamil funeral music). Its visuals are breathtaking. All these draw the viewer and the listener in. However, this song requires some background information to be appreciated to its fullest extent. The lyricist and one of the masterminds behind the song, Arivu, is a songwriter for Tamil movie director Pa. Ranjith's the Casteless Collective that has taken Tamil Nadu by storm with its music and politics. The Casteless Collective presents thought-provoking lyrics set to music from non-classical traditions such as hip-hop, rap, gaana, kuthu, and even the oppāri that reflect the undercurrent of the masses. Its performers wear western suits – a visual that challenges our very stereotype of someone who sings Tamil folk and street music. 
With music produced by the famous Tamil film composer Santhosh Narayanan, and vocals by Dhee and Arivu, Enjoy Enjaami is the first release by the AR Rahman-led initiative, Maajja, which is an alternative platform designed to help independent musicians distribute music while retaining copyrights.  Garnering over 238 million views on YouTube in the two months since its release, the song infuses Arivu's usual themes of equality, humanity, and freedom with nature, forest, and agriculture. It is earthiness personified. And the underlying struggles of the hill country Tamils resonate deep within the listener. Speaking of hill country Tamils, we must mention his grandmother Valliamma who is the main inspiration behind the lyrics. The hill country Tamils were Indian Tamil bonded labourers sent to Sri Lanka in the 19th century to work on tea plantations. They are one of the poorest and most neglected groups of people in Sri Lanka and many migrated back to India only to face poverty once again. Thus, the irony in Arivu's lines:
nān anju maram valarthen
azhagāna thottam vechen
thottam veLanjālum en
thondai nanaiyalaye
'I planted and grew five trees and a beautiful garden. These thrived and yet my throat runs dry (indicating the poverty of the farm hands).' The parallel between the struggles of slavery and the hill country Tamils is also the reason why we find an African aesthetic in the visuals.
Enjoy Enjaami uses oppāri which is only used by the so-called 'lower castes.'  This is the portion in this song that is sung without a rhythm. I am going to be cheeky and compare it with the vruttam type of singing that a Carnatic musician does. Several 'reaction' videos to this song have people from across the globe being moved to tears at the oppāri moment. Irrespective of language, there must be something universally moving about its musicality, and for me, its powerful effect is not transient either - Enjoy Enjaami plays in one's head in repeat mode long after the audio file ends. 
What stands out the most from audience reaction to this song is not its viewership in numbers but in quality. What has this song done to move people to tears? Why does mainstream bharatanatyam not evoke the kind of reaction this song does? After all, we show the struggles of the dalit Nandanar who was not allowed inside the temples and sacrificed his life just to get a glimpse of Shiva. Our dancers are more highly trained at abhinaya or facial expressions than the toothless old farmers grinning in Enjoy Enjaami. In fact, almost everyone is celebrating and smiling in Enjoy Enjaami and yet the final image of Arivu's grandmother on a throne flanked by the performers leaves a lump in your throat. This is in direct contrast to a bharatanatyam dancer almost in tears melting for a Lord. How is it then we fail to garner even a fraction of the reaction in an hour-plus long mārgam compared to this 5-minute song? Again, I am not talking about the number of views, rather the quality of the emotions these performances evoke in the audience.
I gathered a focus group of four socially active Tamils to discuss this. One of the group members is a musician and the rest are consumers of music and dance. Disclaimer: They were all liberals and therefore what follows is a somewhat biased perspective. I asked them why they were so moved by Enjoy Enjaami and not by an abhinaya-intense piece of bharatanatyam. The main take-home messages were: 
Enjoy Enjaami lyrics speak to a set of problems we are facing now. The song is timely and calls for action at every level. This contrasts with a token piece of say, Nandanar being performed in a mārgam repertoire which is generally religious, shows the woman as submissive/pining/whining, and does not reflect the life/attitudes/problems of today. 
There is more universality in Enjoy Enjaami. The struggle of the hill country Tamils, the urgency to address the acts of the current Indian government, the pollution, the ironic superiority of humans who act immortal while we all are going to be fertiliser one day – these resonate more with me. In contrast, just as an example, I would never offend my wife by classifying her into one of the 8 nayikas (heroines) based on our relationship, because she is a lot more than just a response to my presence/fidelity (The Natyashastra classifies heroines into 8 types based on their relationship with their male partner – usually based on his fidelity and his presence/absence).
It speaks to the need to fulfill my responsibilities as a citizen of the world and as a parent. In fact, it almost shames me into activism. 
The song places emphasis on the lyrics and asks us to pay attention to the message. Bharatanatyam pieces generally are performed to show the prowess of the dancer. Ultimately, it is the message that wins.
The composition, and the use of oppāri and Tamil rap along with the striking visuals are definitely some reasons for its success. 
The words used in the song such as en jaami (literally meaning my god, but used here as my darling), peraandi (my grandson), etc are evocative of the local dialects spoken by us when we were growing up, rather than bharatanatyam songs which are generally neither linguistically sophisticated nor reflective of our spoken language.
However, there was one visual that stood out in negative light - the lighter-skinned singer, Dhee, in glamorous clothes amidst a backdrop of very dark-skinned native artists. Somehow it reinforced a sense of hierarchy. 
I am finding it difficult to conclude this piece, not for lack of thought but because of an excess of thoughts. My non-dancer friends have given me much to think about. What is the purpose of my doing bharatanatyam? Is it to show my prowess – look how deep I can squat, look how beautifully I can move, look how well I portray a character? Or is it to make people think about something more important? 
I am not saying that we should change our repertoire overnight to become 'woke', but why not start at least with a seed message that can eventually grow into something more significant, relevant, and able to touch our audience? Maybe that is one way to let people see that bharatanatyam dancers are humans first. Maybe that will inspire others to create pieces more reflective of the current times. We have several dance compositions to inform us how people lived in the past. We need to leave a legacy for our future generations showing how we live in the present times. Dance is not just about physical movement in space, it is also about movement in time, and movement to advance ideas. 
YouTube link to Enjoy Enjaami: https://www.youtube.com/watch?v=eYq7WapuDLU 
* Secular Themes in Bharatanatyam I II III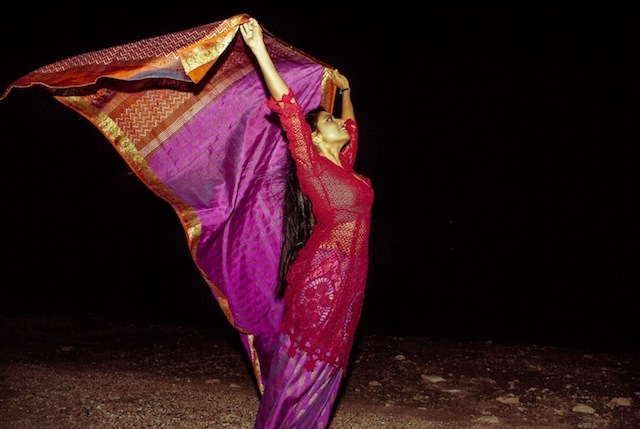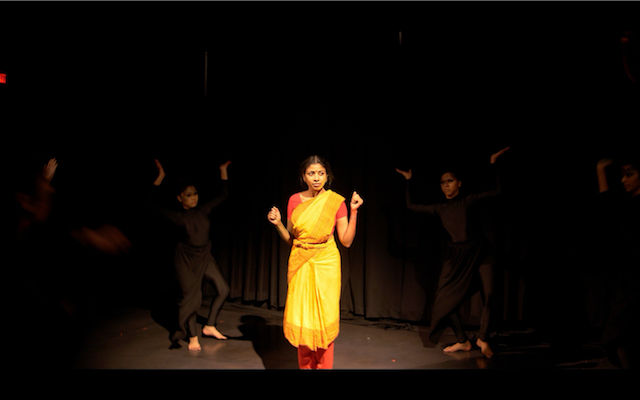 About the author: Dr. Prathiba Natesan Batley is founder/chairperson of the non-profit organisation Eyakkam Dance Company. A three-time Indian national champion of Bharatanatyam, Dr. Natesan Batley is also professor of statistics and research methods at the University of Louisville with over 43 peer-reviewed publications on statistics. She is protagonist and producer of the upcoming dance short film Set Free.