Geometer: ReRooted Collective
Bloomsbury Festival
Holy Cross Church, London
16 October 2019
Reviewed by Magdalen Gorringe
Luke Jerram's magnificent artwork, Museum of the Moon, provided an apt set for the show entitled Geometer, which set out to 'respond to the themes of space and time'. As with ReRooted's previous work, the evening featured works variously choreographed and performed by each member of the group.
ReRooted brings together performers from a range of Indian classical dance styles – odissi, kathak and bharatanatyam, a diversity of styles lent coherence by the uniformity of the simple, yet stylish costumes, and by Jesse Bannister's versatile score. In the opening solo, the simplicity of the costume helped draw attention to the distinctive vocabulary of dance style odissi performed with graceful precision by Pallavi Basak Vijay. 
The following piece, North, a work for three dancers choreographed by Shivaangee Agrawal, was undoubtedly a highlight of the evening. Exploring the 'centrifugal and magnetic forces that act upon us' in our 'eternal struggle for control', Agrawal draws on the vocabulary of kathak and bharatanatyam to etch different images of circularity, dispersion and unity. The dancers spiral inwards, drawing us mesmerically into a piece where the constancy of rotation is punctuated by the effective use of claps and clearly enunciated footwork. This constancy is broken as individual dancers are pulled out of orbit on to their own pathways. The dancers merge in moments of stillness within beautifully inscribed images from their respective dance styles before surrendering again to the imperative of movement, struggling for direction until finally the needle of the compass swings and comes to rest on North. 
No Idle Hands sees a welcome return of Elena Catalano's odissi tribute to knitting. Combining abstract movements beautifully evoking the criss-cross interweaving of threads with the familiar abhinaya which speaks of the relationship between mother and child, the piece casts a different light on the familiar themes of tradition and inheritance. Fader choreographed by Parbati Chaudhury and performed by Meera Patel reflects on the slow back and forth journey of recovering from a painful experience. The piece succeeds in conveying the sense of 'one step forward, two steps back', and of 'stuckness' familiar to so many of us – but could benefit from a tighter edit. Chaudhury shines in the concluding piece, Patel's Geometer. Unfurling from a beautifully contained slow start, resonant with the restrained power of movement, to blossom into quicksilver glides and spins, Chaudhury's presence is compelling throughout. Patel's play with kathak (performed by Chaudhury), bharatanatyam (Agrawal) and odissi (Catalano) modes of conveying measurement is engaging and effective, though like Chaudhury's work, Geometer could benefit from a closer edit and perhaps a further exploration of intersections between dancers.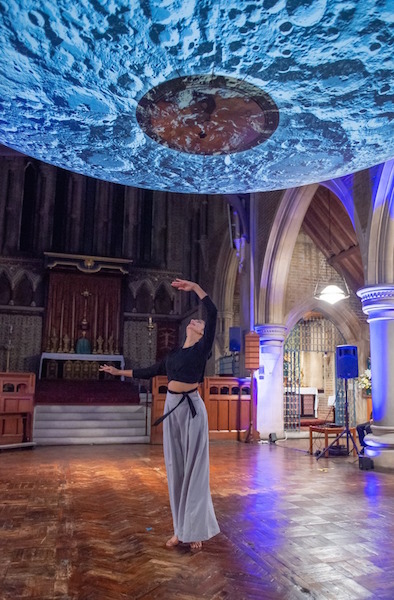 Parbati Chadhury- Image credit:Simon Richardson
Apart from the music and the costumes, these dancers from diverse disciplines are also united by the excellence of their technique, and the rigour and commitment which shines through their movements. These are dancers taking their carefully acquired dance forms to a different place not to meet a funding requirement, or to appeal to an audience, but because their own explorations, and the desire for their art forms to reflect their own experience, demands that they do so. They are pushing boundaries not because they feel they ought to, but because they cannot help it. As a co-operative collective of dancers from different dance styles, in which all are involved in choreographing, and all involved in performing each other's work, they are also pioneering a new way of working for South Asian dance forms. Their rigorous commitment to their dance styles; their generosity and trust in their working method and their restless curiosity in interrogating the possibilities of their dance styles makes them one of the most exciting initiatives in South Asian dance in Britain today.