Dancing for Change II: Arunima Kumar and Subathra Subramaniam
Can dance effect social change? Donald Hutera interviewed four dancers whose work engages with difficult social and political issues. We began with the responses from Aakash Odedra and Amina Khayyam in Pulse #139, Winter 2018. This is part two.
It was once my habit to ask, semi-jokingly, various choreographers I was interviewing if they felt dance could possibly create peace on earth. For me the answer to this rather ridiculous query was a strong, although qualified, no. My point was to try to induce thoughts about both the limitations and potential of any art form to effect social change. This would, of course, have to include dance-based performance.
Questions of world peace aside, I'm convinced that dance of any stripe can exert some kind of a transformative impact on those who watch it. It can also tackle head-on a range of issues relevant to the way people behave and learn about themselves, each other and the world. Based on the works they've made, and are continuing to make, I suspect that the South Asian dance practitioners interviewed here might share that view. Each was sent a handful of questions, listed just below, meant to trigger considered and articulate answers. These have been shaped into what amounts to a continuous stream of thought by four highly intelligent and gifted individuals.
The Questions
What have been some of your motivations for creating dance-based performance, and how have you gone about finding actions and movement that might best realise the subjects and themes that interest you?
 
Can dance express complex ideas and a multiple viewpoint – the pros and the cons – of any issue? Or do you feel it's enough to raise awareness via a powerful narrative with a clear storyline?
 
How have audiences responded to your work, and how do dancers or other collaborators feel they've contributed to the debate?
 
What are some of the insights you've gained from making your work, and how does this feed back into what you will continue to create?
The Replies
Arunima Kumar
Arunima Kumar is a dance artist who specialises in kuchipudi, both in its pure, classical incarnation but also stretched in order to address contemporary world issues and her keen interest in social and feminist politics. Her latest work, Bandeeni (prisoner), is a duet with live music that was created in response to poetry written by a female inmate and was presented at The Place, London on February 13, 2018 as part of the Resolution season of new work.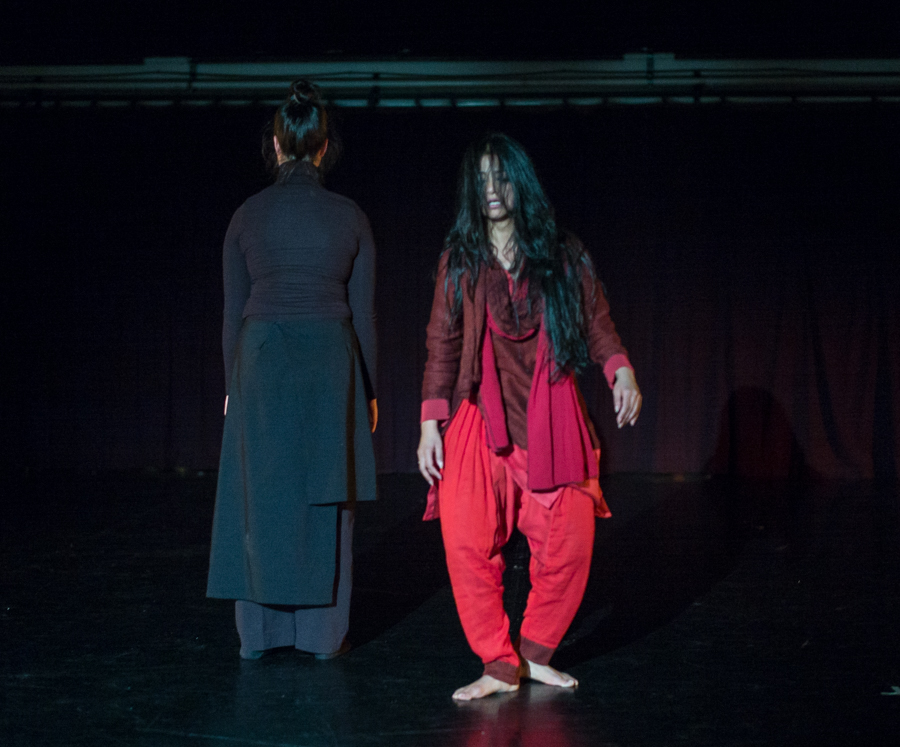 'I call myself an 'art-ivist' – an activist whose art (dance) speaks, questions, touches, provokes and inspires positive social change. I'm trained in kuchipudi, a dance form initially restricted to the male brahmins of Andhra Pradesha. The classical tradition is beautiful, contemporary in context and relevant in thought, but we must let it breathe. I want my work to be alive, and not stuck in the past, and so I invent my own vocabulary of movement inspired by what I see and feel around me. Dance is my way of responding to the issues that affect me. It's one of the most natural, liberating and open ways to express complex feelings and ideas, sometimes explicitly and sometimes in an abstract way.
 
'I create in probably a vain effort to somehow influence the world in which I live, re-creating it in a manner that satisfies my sense of what it should look and be like. The ultimate aim is to create an environment that would allow empathy to take place, where human beings can rise out of themselves and live within others. I know this because that's what other people's dance does to me when I watch it.
 
'My work is like a catalogue of the events, experiences and thoughts of my life – almost like keeping a diary. At the beginning I research and read, developing and deconstructing raw materials for the work. Later these materials are brought together into a live form—distilling and shaping movement, creating a context, working towards something that feels cohesive and complete. I make an effort to engage with audiences, transporting them into a parallel reality where they can experience the essence of consciousness and reflect on spiritual and moral questions. Every theme has several dimensions and layers, and picking one viewpoint isn't easy. I find it hard to express multiple views simultaneously, so I leave things open to interpretation.
 
'My initial work on domestic violence, entitled Ssshhh, was based on the journalist Vartika Nanda's book and premiered in India five years ago. The topic was so taboo people wouldn't speak about it. It was difficult to get people to agree to create it. But the outcome of this improvised performance was extremely powerful, and followed by a panel discussion between lawyers, politicians, the media, journalists, human rights activists, artists and victims. People from the audience shared their views and stories, and we had a lot of interest for repeat performances. None of this would have been possible if we all didn't believe in it selflessly.  
 
'A few years ago I saw a film on Sati, or widow burning. I couldn't accept that widows were burnt alive in the funeral pyre when their husbands died, or even imagine what it would be like to be that woman. Doing my research, I realised that the practice was common in several parts of the world – Greece, Egypt and not just India. I spoke to people, including a rich and powerful man in London. His response shocked me. He said widows deserved to be burnt, otherwise they'd live and maybe fall in love and remarry which would harm the sanctity of their family as it would make them 'impure.' This was enough for me to make BURNT, which has since 2016 been presented as a work-in- progress in Oxford and London.
 
'In 2014 I created Sthree – about the stereotyping of women as beautiful and erotic, the good wife, or the epitome of sacrifice. Drawing upon the mythological stories of Rati, Sita and Sati, it questioned their identity in society: we worshipped them as goddesses, but what status did we give them when they were alive? Qalandar, also from 2014, was based on Sufism and questioned religious fanaticism. My newest work, Bandeeni, is a response to the issue of domestic violence and women in the social justice system. It's based on poems written by women in Asia's largest prison, Tihar, in Delhi and will be presented during Resolution 2018 at The Place, London on February 13.
 
'When my daughter was born four years ago I was ecstatic. A relative congratulated me but said, 'Oh, never mind, it's a daughter.' I'm sure that statement will be the seed of my next project.
 
'When I was new and, perhaps, making mistakes, there was no one to support or encourage me. But in some ways that made me independent and empowered me. I was at a stage where I wanted to take risks, and was led more by my heart than my mind. Now I judge my work by what I feel during the process, and at the end of it. Sometimes people from the audience are moved and come and speak to me. Those are precious moments, and I cherish their words. They inspire me to continue. 
 
'I like to work with people who believe in my work, and love to work with diverse forms of art - the crazier and more extreme the better. I'm not rigid and really like new ideas and questions. It helps me create something that has a bit of everyone in it rather than just myself.
 
'Dance doesn't need to explain or comment on itself. One of the most amazing performances I've ever seen was a woman—a domestic violence survivor—dancing in the prison. She wasn't a dancer. She'd faced tough challenges, had murdered her husband, was isolated form her family and living with a great deal of sadness. She performed my choreography Chaardivari (Walls) with so much honesty and passion. That's the power of dance. You can feel something on a very deep level, and don't have to put words to it.
 
'What drives me, the true value of art, is the intangible. Four years ago I created a piece which was performed by prison inmates. They did so well that the Director General of Police requested special permission for them to perform it at a mainstream venue in Delhi. This was groundbreaking. The women were so excited; they said the fact that they could dance meant that they have a new life. I still go visit them. I also work with children who have been abused. We dance together, share stories and jokes. It gives me so much joy.
 
'As dancers we're pretty much like villagers sitting around a campfire telling stories. By telling stories we connect with each other. We talk about ourselves, our feelings and what it is to be human. We try to have a good time, and we hope the audience does too. At the end of it all, I want to remind people of their humanity.'

Subathra Subramaniam

The dancer and choreographer Subathra Subramaniam, formerly the co-founder of Angika (with Mayuri Boonham), is now the artistic director of Sadhana Dance. Her twin interests in the arts and science also mark her out as an educator with an ongoing interest in public engagement of all kinds.
'Because of my degree in medical biochemistry science is one of my main creative drivers. That I'm a science teacher, too, means that finding ways of engaging people in science is a curiosity I have. I make work in the hope that I can instill their curiosity in a subject.
 
'As for dance, it can express and make us think about complex ideas, initiating debate and discussion. It's visceral, too: the body can really move people. With careful research and choreography any narrative, either linear or non-linear (although I tend to work in a non-linear way), should be enough to engage. It may not be able to address all the pros and cons, but I it can certainly make people react.
 
'The Shiver  was the first work for my company, Sadhana. It was about the scientific and emotional reasons that we shiver, and inspired by a huge number of things, including five trips I made to the Arctic as part of the Cape Farewell project. Elixir was also inspired by these Arctic trips. With it I wanted to examine our cultural relationship with water, and also had an installation by Josh Baum that looked at the beauty of every single drop.

 'Under My Skin came about as a result of watching a surgery simulation by Professor Roger Kneebone at the Cheltenham Science Festival, and realising how choreographic what goes on in an operating theatre really is. I wanted to open up that intimate world of the operating theatre up to a wider audience.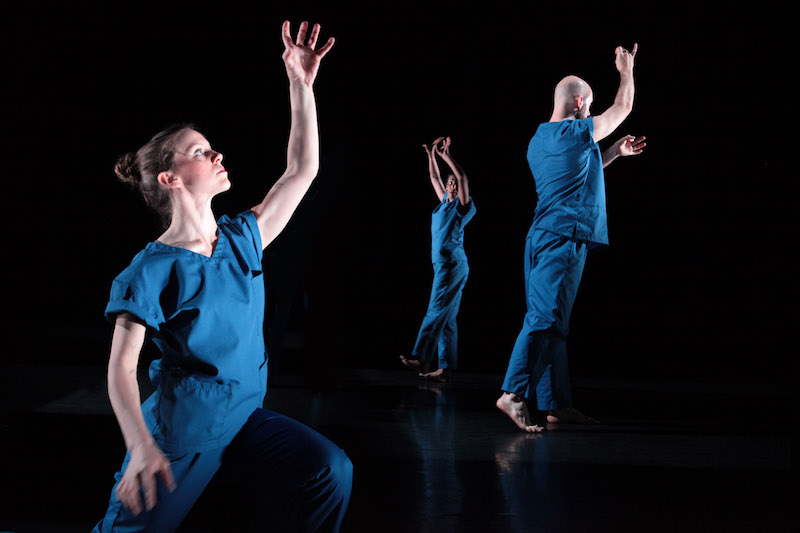 Shadhana Dance | Photo: Mark Peperall
 
'I was a special needs co-ordinator at my school, and worked one-to-one with troubled kids. My most recent production, Unkindest Cut, was inspired by all of that. Before making it I spent weeks observing therapy sessions with psychiatrists and health care professionals. It was humbling.
 
'My work isn't controversial, but sometimes it's seen as being too abstract. Some question if it induces public engagement in any way because they don't see the whole subject danced in front of them. I have to keep reminding people that I don't want to teach through my work, but just make them think and talk. 
 
'Ideas take a lot of time to brew, and I then have to digest them before I start anything. I have to go with my instinct as to what form a work can take – dance-theatre, comedy, one-woman show. I'm learning to play more, taking risks and delving into new territories. Currently I'm very excited about mosquitoes and the world-wide problem of mosquito-borne disease. I'm also interested in looking at how I can make something funny yet informative.
 
'My collaborators are involved in the process from day one – in discussions with scientists, and by doing their own research and representing a subject though their own medium. But increasingly I'm becoming interested in the knowledge transfer that occurs between artists and scientists. Scientific research is, after all, hugely creative. I never want to just take from them and not have some, even if very small, influence on their own processes. We just look at the world slightly differently.
 
'I've had audiences and scientists tell me what I do is important. One critic thought Under My Skin was slightly erotic because of the nature of the touching of skin, and the choreography itself. Surgeons and scrub nurses have told me it was wonderful to see what they did through a choreographer's eyes. But my favourite response so far was an audience member stepping out of the shipping containers after watching Unkindest Cut and saying, "What the fuck just happened?"'